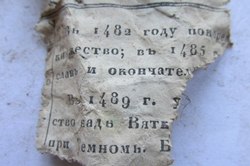 The papers found in the nests at the cathedral... could date back to the 1830s
Chicago, IL (PRWEB) November 14, 2015
According to Atlas Obscura's Nov. 11 report, bird nests constructed of historical paper artifacts were discovered at Russia's Cathedral of Assumption as it underwent renovations. Bird-X, humane bird control experts for over 50 years, comments on the reports and gives perspective.
The Atlas Obscura report states that the papers found in the nests at the cathedral, which is located in a neighboring town of Moscow, Russia, could date back to the 1830s when the roof was replaced. "That's as far back as these papers are likely to date," the article informs. This event was the likely starting point of when birds began assembling these nests from a myriad of Russian papers, all found along the roof of the structure.
Another article from RT.com reports that the Russian paperwork uncovered included an assortment of documents. "Two-hundred-year-old-letters, banknotes worth a small fortune, calendar pages and all kinds of other fascinating scraps were found…"
One particular banknote was valued at 1,000 rubles—quite a fortune in those times. "Imagine losing that to some nesting birds!" the rt.com article states. Additionally, old advertisements, newspaper, food coupons, food wrappers, and private letters endorsed by authors, added to these bird nests findings.
RT mentions that the papers have been sent to historians for further analysis and reporting. For historians, uncovering these valuable Russian papers will aid in the understanding of history. Although it may seem like nothing more than scraps, the documents have the possibility of filling in Russian historical gaps. "For example, they found a mortgage document for a large sum of money loaned by a merchant woman." The article states that historians want to uncover what happened as a result of such an important document's loss.
Bird-X understands that many birds tend to construct their nests for the primary purpose of serving their young. Nests act as a means of protection as eggs develop, hatch, and are raised by their parent. Depending on the species, bird nests can be spotted throughout various locations while using completely diversified materials. In this particular case, Russian paper scraps seemed like adequate supplies to nearby birds. It makes total sense why birds would use these pieces of paper to make their nests: they were available building materials.
The Atlas Obscura article mentioned that literature is full of stories of birds making nests from the stolen belongings of humans, and that activist Edward Howe Forbush reported that in 1913 a group of cormorants built their nests entirely from the wreckage of a sunken trading ship, including hairpins, men's pipes, and ladies' combs.
Bird-X is a Chicago-based company and leading brand for humane bird control solutions internationally. With over 50 years of experience within the market, Bird-X has placed their dedication in protecting human health, wildlife, and the environment through products that not only prevent pest infestation, property damage, and the spread of disease but are also eco-friendly, family friendly, safe and humane.