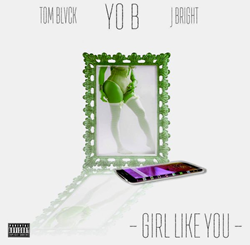 New York, NY (PRWEB) November 13, 2015
Today Coast 2 Coast Mixtapes announces the release of "Girl Like You", the latest music video by New York recording artist and FLYiZ founder and CEO yO B featuring Tom Blvck & J.Bright . The video currently can be viewed in its entirety at the Coast 2 Coast Mixtapes website.
yO B is currently seeking press opportunities, interviews, features, and more. He can be reached through the official FLYiZ website.
About yO B & FLYiZ: FLYiZ has been compared to Black Eyed Peas, LMFAO and Flo-Rida, while adding a new platform of sound we call Pop-Hop, or Feel Good Music. With performances spanning from NYC's China Club to the Amphitheater at Six Flags, NJ, FLYiZ has a proven and enjoyable sound. FLYiZ focuses on listen-ability, amid an invariable contemporary Hip-Hop genre. FLYiZ takes pride in a following containing fans across the United States and many countries, and are confident that their music will be admired by all ages regardless of genre preference. The group is comprised of Two progressive lyricists as well as features from many of NY's best unsigned talent. yO B and D.R. make up the dynamic duo known as FLYiZ created in the wake of the Westchester Pop Sensation "DKP." Nik Low has been their primary female vocalist for many years along with featured artist and friend Lil J. With the group's first full length digitally mastered album "What to Wear" due for release in early 2012, there is no doubt that the Crew will be a chart topping international music force.
FLYiZ has been recognized by Munoz Management Inc. as Best Hip-Hop group, 2011 and "Artist of the Year", 2012, at the Vote Tours International Music Festival, held in the heart of New York. The group has been featured on internet radio shows such as "PowaRadio.com" and NYC's "Air it Out." Their music is available for listen on ReverbNation.com as well as one of NYC's flagship Hip Hop stations, Power 1051fm.com
yO B, the group's CEO and founder, also has ties to Trinidad through a feature on Touring artist KES The Band's Latest Album, Stereotype, available at retail locations worldwide. The feature record is called "Red Light Remix", a fast paced, in your face hip hop edge to Trini's recognizable Soca style and has become a testament to the group's versatility.
As a group, the Crew places great importance on artist individuality loyalty and respect for all performers. FLYiZ attempts to incorporate as many different feelings, memories, and events from life to provide the best new sound East of the Mississippi. FLYiZ Crew provides a break from everyday hip-hop and ushers in a new era where imagination is the only limit. Musicians and Businessmen alike yO B and D.R. are sure to impress. Just remember... FLYiZ Just Another Way of Sayin' My Name. "FLYiZ " a smash hit which is to be released on the Album Titled "What to Wear" in early 2012,
This talented Group of individuals thrive to get you out of your seats. The party hasn't started officially until "FLYiZ" has walked into the building… and trust me .. when they arrive you'll know it! Their new sound, and amazing stage presence is enough to "WOW" you… Whens the last time you popped a CD into your system and actually listened to the whole thing from start to finish? Their not just talking, their proving that they are a musical entity that is sure to break through the charts. You can catch them on their national "V.O.T.E." Tour starting in NYC APR 23, 2012 -Houston TX, June 15-17th 2012- Las Vegas June 21-30th 2012 - Miami FL, July 12-14th 2012 - NYC Sept 23-27th 2012. For more info on y Ob & FLYiZ visit their official Facebook page.
About Coast 2 Coast Mixtapes:
Coast 2 Coast Mixtapes are the most widely distributed mixtapes in the world, with over 100 million downloads/plays generated by over 300 volumes officially hosted by major artists. Coast 2 Coast has a solid reach in the new music industry with a digital magazine, DJ coalition, industry tips blog, yearly convention, and more. Coast 2 Coast Mixtapes represents a unique opportunity for artists of all urban genres, from major to indie. For more information, visit http://www.coast2coastmixtapes.com.