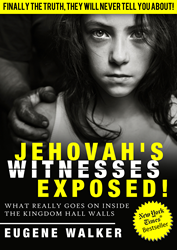 Eugene strongly warns the reader by saying: "Now if you're reading this and your conscious is not ready to be shocked beyond belief, then stop reading here. Really. It means this book is not for you.
Dallas, Texas (PRWEB) November 16, 2015
In Matthew 24:14 Jesus says: And this good news of the Kingdom will be preached in all the inhabited earth for a witness to all the nations, and then the end will come. As time has proved, Jehovah's Witnesses have done a tremendous job of extending Jesus powerful message of truth across the globe. Their worldwide efforts have changed the lives of millions and have helped them to reach a better understanding of God and his son Jesus Christ.
Jehovah's Witnesses come from hundreds of different ethnic and language backgrounds, and are united by one common goal. That goal is to honor Jehovah, the God of the Bible and the Creator of all things. Jehovah's Witnesses do their best to imitate Jesus Christ and are proud to be called Christians. They have broken down the barriers of racial prejudice and political conflicts in many areas around the globe. In a January 15, 1995 Watchtower magazine it says: "Our close relationship with Jehovah makes us the happiest people on earth."
In his new book, "Jehovah's Witnesses Exposed - What Really Goes On Inside the Kingdom Hall Walls", Eugene Walker (a member himself for over 40 years) explains some of his experiences with becoming a Jehovah's Witness and why he believes many members have left the movement.
Eugene Walker has received rave reviews for the book. One amazon reviewer states, "I must admit that I was quite skeptical at first when I came across this book, because, often when I come across authors that are writing about a religion in a negative light, the books usually seem to be filled with unfair biases and malicious slander that prevent an objective and well-thought out argument from being expressed. I was glad to find that this book is far from the aforementioned, and it is instead filled with plenty of strong evidence backed by solid research that made it easy for me to make up my own mind about Jehovah's Witnesses."
P.S. This book in no way endorses the persecution of Jehovah's Witnesses. The information contained in this book is based on the "real life" experiences of individual persons. This book is not intended to slander, expose, or degrade the organization as a whole. It's intent is to help current members who are struggling with doubts and also assist others in understanding what it means for most to become a Jehovah's Witness today.
This book is available in the NOOK book format and priced at $2.99. It is published by BookBaby whereas sold by Barnes & Noble and Amazon at their official websites. To learn more, please feel free to visit any of the links below.
Book Details:
File Size: 1420 KB
Print Length: 80 pages
Publisher: BookBaby; 1 edition (November 6, 2015)
Publication Date: November 6, 2015
Sold by: Amazon Digital Services, Inc.
Language: English
ASIN: B017PJBAUM
Amazon Purchase: http://www.amazon.com/Jehovahs-Witnesses-Exposed-Really-Kingdom-ebook/dp/B017PJBAUM/ref=sr_1_1?ie=UTF8&qid=1447404227&sr=8-1&keywords=jehovahs+witness+exposed
Barnes & Noble Purchase: http://www.barnesandnoble.com/w/jehovahs-witnesses-exposed-eugene-walker/1122915769?ean=9781682225196
About the Author: Eugene Walker (born April 22, 1973) is an American author, family counselor, and psychologist. His works range from destructive cults, interpersonal relationships, marriage, family therapy, non-fiction, suspense, science fiction, and fantasy. His books have sold more than 2.5 million copies worldwide.