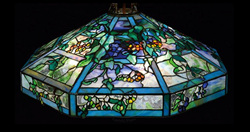 With over $500,000 in unreserved consignments, this sale offers collectors fantastic buying opportunities with bargains to be had from start to finish!" - Mike Fredericks, Department Head
Fairfield, Maine (PRWEB) November 15, 2015
James D. Julia, Inc., one of the nation's top ten antique auction houses, is excited to present this trio of extraordinary treasures in association with the company's upcoming annual fall sales event to be held on November 18th, with a preview on November 17th. These breathtaking lots are certain to be of great interest to decorative arts enthusiasts and museums around the world, and highlight James D. Julia and its specialists as leaders in the important lamps and glass auction categories.
The first of these remarkable offerings is lot 1130, a 14-1/2″ tall Galle Marquetry Iris Vase from the Dr. Mark Jackson collection, estimated at $15,000-25,000. In 1898, Emile Galle patented his method of inserting or embedding multiple pieces of shaped, hot glass into a vessel that could then be wheel-carved into highly detailed designs. This was extremely time-consuming and difficult and as such, many pieces did not survive the manufacturing process.
This vase is cataloged in part as, "Galle vase has an opaque green glass applied pedestal foot. Vase is internally decorated with orange flame shaped swirls rising from the applied foot and shading to green swirls climbing to the irregular lip all against a creamy light green background. Vase is further decorated with marquetry blue, white and green irises and stems with light amber colored buds, each of the flowers is intricately wheel-carved creating wonderful detail. Back of vase is also decorated with blue, white and green marquetry flower, which is also intricately carved. Green pedestal foot is also decorated with swirling bands of martele carving. Signed on side with engraved oriental signature "Galle." Vase comes complete with its original presentation box with satin lining and leatherette exterior."
The second of these outstanding selections is lot 1188, a 7" tall Tiffany Aquamarine floral vase from c. 1912, estimated at $40,000-60,000. Tiffany was so captivated by marine and floral vegetation in the Bahamas that he sent his lead artisan to the island to study examples in a glass bottomed boat before beginning production in 1912. Due to the massive weight and density of each vessel, along with the difficulty of annealing a piece with several different types of glass, many of the aquamarine pieces did not survive the manufacturing process. With floral and seascape designs fully encased in dense transparent green-tinted glass, these are some of the most sought-after examples of Tiffany glass.
This masterpiece is cataloged in part as, "Tiffany Aquamarine vase is decorated with bright yellow stylized flowers with orange and black centers. Each flower is separated by a large shaded brown and green stylized leaf. Vase is further decorated with a band of interwoven stems encircling the bottom of vase. All against a clear lightly iridescent aquamarine background. Signed on underside "L.C.Tiffany-Favrile 5253 G"."
Last but hardly least, this auction is offering lot 1178, a rare Tiffany October Night Chandelier, estimated at $160,000-180,000. This pattern is seldom seen on the secondary market and is an absolutely outstanding example of Tiffany Studios leaded glasswork. The variety of glass used in making this desirable chandelier is truly incredible. The lamp comes to life with striated, mottled, and fractured/confetti glass as part of the design. The trellis pattern has phenomenal vibrant turquoise panels with subtle purple striations that stand out even when the piece is unlit.
This amazing fixture is cataloged in part as, "Tiffany Studios chandelier with design known as October Night has a turquoise blue trellis extending from top to bottom with delicate flowers, stems and leaves vining around trellis, set against backgrounds of confetti glass and swirling purple, yellow and green glass. Flowers are done in shades of red, yellow, pink and amber. Shade is complete with 4-socket cluster suspended from single rod with Viking ball at top and 4 bronze chains securing shade. Ceiling cap has bronze bead trim. Finished in rich brown patina with green highlights. Signed on interior "Tiffany Studios New York 620-4″."
According to Mike Fredericks, Department Head of Julia's Lamps, Glass, and Jewelry Division, "Our team has worked tirelessly to present this comprehensive auction featuring over 650 lots. We are excited to offer over $2 million in inventory from many fresh to the market private collections from all across the United States. With over $500,000 in unreserved consignments, this sale offers collectors fantastic buying opportunities with bargains to be had from start to finish!"
About James D. Julia, Inc.
James D. Julia, Inc., one of the top ten antique auction antique houses in North America, is headquartered in Fairfield, Maine. The company also has an office in Woburn, Massachusetts. In business for over 45 years, the company conducts high-end antique, collectible, and decorative arts auctions throughout the year. Julia's has routinely establishes new world records through its sales events. The company consists of three key divisions, including rare firearms and militaria; fine and Asian art and antiques; and lamps, glass, and jewelry. Each division is regarded for its excellence and is staffed with world-class specialists to insure fair and professional authentication, identification, and valuation services. For more information on James D. Julia, Inc., please visit http://www.jamesdjulia.com.