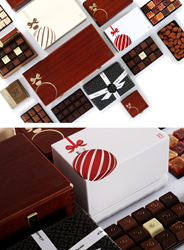 We are committed to elevating the art of gift giving to a new level of personal expression — one of Excellence, Elegance, and Intelligence — and one that assures the sender will make a grand and lasting impression, anywhere in the world.
(PRWEB) November 17, 2015
zChocolat, premier online retailer of luxury chocolate gifts and world renowned ambassador of the French chocolate savoir-faire, unveils for the most magical time of the year, its brand-new 2015 Holiday Collection of exclusive chocolate gifts for international delivery.
This wondrous array of 17 seasonal chocolate gift boxes filled with World Champion French Chocolatier Pascal Caffet's recipes to allot smiles and sweet memories, will become symbolic centerpieces for this holiday season. From a small thoughtful chocolate gift for a friend to a large chocolate gift basket for a work team or a family, zChocolat has left out no option this year and has made sure to satisfy any budgets.
Dolled up in seasonal colors, this ultra-chic line of holiday themed ballotin boxes is the flawless year-end gift idea. These frosty crimson red and white boxes, decorated with a glossy Christmas bulb atop the lid, deliver the finest French chocolates for the holidays. Prices vary from EUR 46 to EUR 138 (USD 49 to USD 148).
This year offer a lavish present from this grand holiday mahogany line. Each gift box is handcrafted in the Jura region of France from rich, claret hued mahogany with a fine golden-inlaid Christmas bulb pattern atop the lid. Worthy of the finest holiday wish-lists, these seasonal luxurious chocolate gifts contain an assortment of master-crafted, artisan chocolates to convey all holiday dreams with refined excellence. Prices vary from EUR 60 to EUR 460 (USD 64 to USD 492).
Holiday gifts are delivered worldwide at a flat-fee of EUR 15 (USD 16) by DHL Express with 24H online tracking and email delivery alerts. Moreover, shipping is complimentary with a minimum order of 3 products for delivery to a single address.