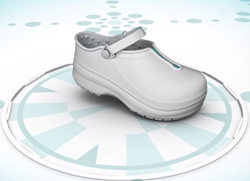 Seven days after I started treating myself with Medic Shoes, the pain was gone.
Tel Aviv, Israel (PRWEB) November 16, 2015
The new Medic Shoes™ patent is natural solution that enhances peripheral circulation and increases blood flow.
Following years of research, clinical investigation and development, the Medic Shoes™ patent has received official approval from the FDA and the CE. The shoes have passed all medical safety and design requirements for marketing them to the general public.
Medic Shoes™ announced that the company will be exhibiting at MEDICA 2015 in Düsseldorf, Germany, on November 16-19, 2015. Visit our booth in HALL 16 / G 40.
In the coming months, people from all over the world will benefit from the product: diabetics and people suffering from foot problems, especially poor peripheral circulation.
Initially, Medic Shoes™ will be offered for sale through our website and the biggest commercial Internet websites in the world, so that anyone who wants them may order them and enjoy them without delay.
A Revolutionary Approach for Improving Peripheral Circulation
Symptoms of peripheral vascular disease (PVD) and metabolic diseases like diabetes can result in poor peripheral circulation. PVD is a serious condition affecting hundreds of millions of people worldwide. The most common symptoms are ongoing pain and discomfort, while the pathology of poor peripheral circulation can range from mild aches to far worse complications.
The patent developed by Yaffa Golan offers a clinically-proven, non-medical addition to conventional drug therapy, alleviating the symptoms of poor peripheral circulation. Based on the principles of acupressure and reflexology, Medic Shoes™ deliver both relief from peripheral neuropathy and provide measurable peripheral hemodynamic improvement.
Medic Shoes™ are to be worn lying down for 15-30 minutes a day. After using the shoes as directed, statistically significant improvements were recorded both in objective medical indices and in subjective reporting of foot pain and sleeping difficulties.
Visit us at http://www.medicshoes.com
Contact:
Guy Idan, CEO
Tel: +972-3-5274036
Email: info(at)medicshoes(dot)com