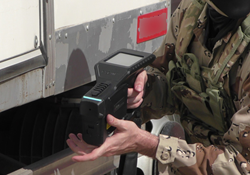 Detecting explosive precursor materials in transit would prevent terrorists from amassing materials into car bombs and suicide belts
Paris, France (PRWEB) November 16, 2015
Laser Detect Systems (LDS), a world leader in tactical explosive detection, is unveiling new models of explosive and drug detection systems at MILIPOL 2015, expanding the line of sensors supporting tactical law enforcement, homeland security and military applications.
Used by first responders, security personnel and warfighters for law enforcement and military applications, LDS' sensors employ different detection techniques, including Laser Raman Spectroscopy and Ion Mobility Spectrometry (IMS) providing best in class detection and identification for a broad range of different applications.
Operational, and field proven, G-SCAN Pro and I-SCAN are widely used for personnel and hand baggage checks at airports and border inspections, scanning packages or vehicles. They are also used as investigative tools at crime scenes, identifying materials suspected as explosives or narcotics.
G-SCAN PRO is a cutting edge, automatic, hand-held detector employs Laser Raman Spectroscopy to detect hundreds of different types of explosives and explosive precursor materials or drugs in few seconds. The battery powered, hand-held system weighs only 1.5 kg and operates without additional power for over eight hours. Extra battery kit extends the system's operation by eight hours, exceeding any competing hand-held sensor in the market.
Another hand-held device is the I-SCAN, a best in class trace detection system employing Ion Mobility Spectrometry detecting explosive or drug traces in vapor and particles. I-SCAN weighs 3.7 kg, detects chemical agents including home-made explosives and narcotics it has in its database.
"With these new devices, inspection checkpoints are assembled at snap roadblocks in minutes, effectively intercepting explosive devices in transit or movement of explosive precursors" Eli Venezia, Founder and CEO of LDS, said, referring to the commonly used, benign materials that become powerful explosive devices when combined. "Detecting such materials before they reach their destinations would prevent terrorists from amassing materials into car bombs."
Another explosive detection system introduced by LDS augments existing explosive scanning systems at airports and other security checkpoints, enabling authorities to detect illusive materials, commonly in liquid form, such as TATP and PTEN.
B-SCAN – LDS' is unveiling the new edition of the field proven B-SCAN – a highly sensitive Bottled Liquid Scanner (BLS) that also utilizes LDS' proprietary Raman Spectroscopy technique. Designed for high throughput, B-SCAN typically completes tests in less than 12 seconds providing clear and fast scanning results for Pass, Fail or Potential Threat results. The test cell accommodates containers and veils as small as 50 ml, up to bottles and transparent or translucent containers up to two liters in size.
The system operates as a desktop inspection station utilizing highly automated processing and immediate system recovery after detection. B-SCAN is instantly ready for use when switched on, with no need for warm-up time. The system includes built-in power backup UPS ensuring continuous operation.
About LDS:
Laser Detect Systems (LDS) is a world-leading developer of standoff laser-based trace detection technology, based on advanced laser spectrometry. Utilizing this technology, LDS has patented and commercialized ground-breaking systems for homeland security, law enforcement, military and environmental safety. These systems enable the standoff, real-time sensing and trace detection of a variety of materials which have a distinct spectral signature without the need for sampling. These include explosives, PETN, narcotics, chemicals, biological substances, and other hazardous materials, in liquid form.