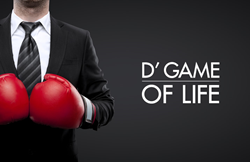 Como, Italy (PRWEB) November 16, 2015
In an effort to push society for investing further in arts, science, design and technology, today the A' Design Award and Competition launched an advertising campaign titled "D' Game of Life". This is a digital-focused advertising campaign that also features an online interactive game to engage the audiences further by making them involved.
The new advertising campaign directs audiences to a special page at the A' Design Award, where users can play an interactive game titled D' Game of Life. The game is easy to learn, free to play, does not require registration and is browser based. The webpage also features a call to action to spread the idea of doing good by good doing. D' Game of Life, was developed by OMC Design Studios in Italy.
In D' Game of Life, players answer a simple question and see their "Level" in life. There are 1000 Levels, and each level comes with a representative image, a description as well as a level-specific advice. The advices given by the game aim to remind people to give back to their communities. Depending on their levels, players are given advices to further their education, to share their knowledge, to donate to a charity or even start a new foundation.
Dr. Onur Mustak Cobanli, president of design policy at the A' Design Award and Competition said; "Our new advertising campaign, D' Game of Life, perfectly alligns with the mission of A' Design Awards to create a better brighter future with good design. With this game, we intent to especially engage non-designer audiences, to remind them once again the importance of good design. We aim to push global audiences towards taking part in initiatives that could advance arts, science, design and technology."
The advertising campaign aims to promote and push forward the following ideas: 1) Giving back to society matters. 2) Donating to charities, taking part in local charitable organizations and leading a charity are ways to give back to society. 3) Investing in arts, design, science and technology is a great way to contribute to society. 4) Everyone, regardless of their income or social status can make positive change.
About A' Design Award and Competition
A' Design Award and Competition aims to push designers, architects and project developers worldwide to come up with superior projects that benefit society. The A' Design Awards has a philanthropic goal to support designers, artists and architects who demonstrate excellent design quality in their work. The very best design projects are promoted and highlighted worldwide to achieve a global appreciation and understanding of good design. Learn more about the A' Design Prize by visiting: http://www.whatisadesignaward.com