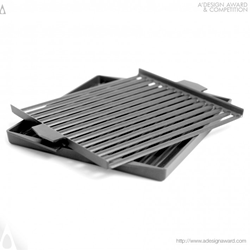 Como, Italy (PRWEB) November 16, 2015
A' Design Award and Competition is pleased to announce that the design project MiPan by Michael O'Donnell has been announced as a winner of the Golden A' Design Award in Bakeware, Tableware, Drinkware and Cookware Design Competition Category.
More information on MiPan
Michael O'Donnell, the designer of the awarded Kitchenware design MiPan explained, "The MiPan is designed to absorb the fat and liquid by-products of the cooking process and hold them within a cavity preventing unpleasant spitting and the associated mess. This efficient removal of excess fat and liquid creates leaner food cooked at lower temperatures. The reduction in cooking temperature means a reduction in carcinogens produced by pyrolysis. Finally, the MiPan promotes the Maillard reaction as the removal of water facilitates the recombination of sugars and amino acids to form new flavour compounds." Learn more about this design: https://competition.adesignaward.com/design.php?ID=35408
The Golden A' Design Award
The Golden A' Kitchenware Design Award is a prestigious award given to top 3% percentile designs that has exhibited an exemplary level of quality in design. Entries to the A' Kitchenware Design Awards are evaluated with score normalization on aspects such as functionality, ergonomics, engineering, presentation, innovation, usability, and technology by an expert, internationally influential jury panel of prominent academics, design professionals and media members. Laureates of the A' Kitchenware Design Awards are granted the coveted A' Design Prize which includes a series of public relations and marketing services such as inclusion in Designer Rankings, exclusive interviews, press release preparation and distribution services in addition to the award trophy, yearbook, exhibition, gala-night and design excellence certificate.
About A' Design Award and Competition
A' Design Award and Competition was established to promote best designs and designers worldwide in order to create a global awareness for good design practices and principles worldwide. The A' Design Awards are organized in a wide range of creative design disciplines including but not limited to Spatial Design, Communication Design, Product Design and Service Design in order to push designers, product manufacturers and service providers in all industries to come up with superior products that benefit society. To learn more about the A' Design Contest, visit http://www.whatisadesignaward.com