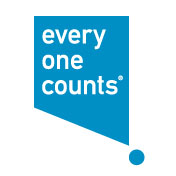 San Diego, Ca (PRWEB) November 17, 2015
Everyone Counts, the leader in election modernization, is pleased to announce their nomination for the prestigious Los Angeles Business Journal's 2016 Patrick Soon-Shiong Innovation Award.
The awards, now in their sixth year, were created to honor and acknowledge the organizations and people that expand boundaries and have proven to be leaders in innovation.
Everyone Counts was founded with a mission to bring state of the art technologies already proven in other industries to voting, to ensure that everyone with the right to vote can do so securely, independently and with full confidence their vote will be counted. For the last century, the election industry has used error-prone paper processes or antiquated voting machines that are reaching end of life. Everyone Counts CEO Lori Steele Contorer brought technology innovation to elections by developing a Software as a Service model, with the software delivered on commercial off-the-shelf hardware such as laptops, tablets and smartphone, as voting machines. This model not only increases convenience for voters but cost-saving for election administrators, all while increasing security, accessibility and auditabilility.
Everyone Counts is honored to have these achievements in election modernization recognized by the nominating committee for the Patrick Soon-Shiong Innovation Awards.
Hosted by the Los Angeles Business Journal and NantWorks along with Community Partner, Intelliversity, the awards will take place Wednesday, November 18, 2015 Four Seasons Hotel Beverly Hills Los Angeles, CA 90048.
###
About Everyone Counts:
Everyone Counts was founded to modernize global elections with a secure, transparent software-based voting solution. Everyone Counts has built a team of internationally recognized election administration and technology experts to develop eLect®‒the world's first and only perpetually state-of-the-art, universally accessible election administration and voting system. Used by voters in more than 160 countries, eLect has become the industry standard in security, integrity, flexibility, and reliability through its unique Software as a Service (SaaS) delivery model. To learn more visit http://www.EveryoneCounts.com.