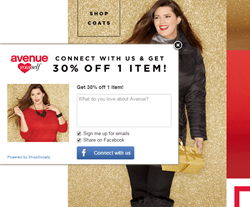 ShopSocially proved to be a successful social commerce partner for Avenue. We are very happy using ShopSocially apps on Demandware platform as they are helping Avenue to succeed. - Kristen St. Peter, Director of eCommerce at Avenue.
SANTA CLARA, CA (PRWEB) November 17, 2015
On Wed., November 4, 2015, ShopSocially and Demandware hosted a three-way webinar with Avenue, a leader in Plus Size Fashion Clothing titled 'How to Get Up to 40% More Revenue from Your Holiday Traffic'. Presenting the webinar were Kristen St. Peter, Director of eCommerce at Avenue and Samir Palnitkar, President of ShopSocially. It was hosted and moderated by Liz Lynch, Partner Marketing Specialist at Demandware.
Liz initiated the webinar with thorough introduction of Demandware's Commerce Cloud and services. Samir Palnitkar then took over, explaining that eCommerce merchants face several challenges during the holiday season,"Several SEM and SEO campaigns end up attracting window shoppers, minimizing entrepreneurs' ROI during the crowded, competitive and noisy holiday season," he explained. "With so many deals and offers between Thanksgiving and Christmas, even loyal clients may be snared by the competition. Further making things worse are buyers' lack of enthusiasm while sharing purchase experiences and increased un-subscription rate due to holiday email campaign spam. Because of these, sites' conversion rates tend to be quite low. Moreover, marketers fail to convert their customers into brand ambassadors, maximize referral traffic, or acquire new customers."
Tapping into his 20 years of industry experience, Palnitkar and his team created the ShopSocially Omni Channel Marketing platform. It comprises of a referral program that helps in new customer acquisition, modules which remove conversion barriers and provide social proof, and loyalty solutions which ensure that clients come back for more. Complementing these functions is a list of features including easy personalization, detailed reporting, A/B testing, and mobile friendliness. ShopSocially offers seamlessly integrated apps plugin for major eCommerce platforms such as Demandware.
To showcase the power of ShopSocially's solutions, Palnitkar invited Kristen St. Peter from Avenue to share her experience and results of using ShopSocially solutions on Demandware platform. According to the plus size fashion clothing brand's Director of eCommerce, the first ShopSocially app they implemented was the Social Connect App for viral email acquisition.
"We chose Social connect because traditional email acquisition widgets drive users away from site to their inbox," she said. "ShopSocially solves this problem and delivers three key benefits: users never leave the site so the conversion rates are higher; we get complete user profile data in a single click, and not just email address; and there is built in virality which drives high quality referral traffic to the site with 30% boost in email acquisitions."
The second ShopSocially app Avenue embedded was Share-a-Purchase App, which turns buyers into brand ambassadors by allowing them to share their purchases with friends in return for a small discount on their next purchase. The app has also helped acquire new customers via referrals, generate real-time social buzz, and increase repeat purchases by 26%.
Together with the Social Connect App, Share-a-Purchase App helped Avenue get thousands of word-of-mouth referrals on social media, improve their standing on search engine results pages through social sharing and backlinks, and enjoy a 11.5x ROI on their efforts. Individually, the first app converted visitors at a 28.48% rate while the latter converted at a 14.88% rate. These numbers were easy to track thanks to a personalized dashboard ShopSocially created to help Avenue track a comprehensive range of metrics including word-of-mouth referrals, email subscriber growth, and conversion uplift.
After sharing Avenue's results with ShopSocially, St. Peter invited Samir Palnitkar to provide eCommerce merchants with a few valuable strategies for holiday season. Samir first recommended the use of a referral marketing program for the holiday season to deliver up to 15% increase in traffic. He also suggested the use of social login to remove conversion barriers. To further boost conversion rates up to 15%, Palnitkarproposed the use of visual commerce and customer Q&A becausethey add social engagement and social proof to the website. He concluded by emphasizing on the need to focus on 360 degree loyalty suite, especially since 20% of future revenue comes from existing customers.
To access webinar recording and presentation, click here
About Avenue
Avenue® is a leader in the fashion industry for plus size clothing. Started in 1983, Avenue® has been committed to offer quality products of plus sizes. Over the years, Avenue® has carefully adjusted the proportions on petite, tall and extended size clothing to accommodate the needs of their entire customer base. Avenue® has continuously improved its fit formulas, resulting in a truer, more forgiving fit in all areas for their customers.
As a specialty retailer, Avenue® takes pride that each style they offer in market is on trend with the season. This commitment to fashion has allowed Avenue® to remain the destination of choice for plus size fashion. Besides the online e-commerce store, Avenue® has approximately 300 offline stores in market. For more information on Avenue, visit http://www.avenue.com/
About ShopSocially
ShopSocially is a premium social, referral, and loyalty platform for marketers. It is an enterprise grade SaaS solution that helps merchants in new customer acquisition, improved conversions and increased customer retention. Leading brands such as Evelyn & Crabtree, Beretta, Dressbarn, Zazzle, Zipcar and ULTA use the ShopSocially platform to drive referral marketing, visual eCommerce, customer loyalty, social login, social gamification and other similar programs on their sites.
ShopSocially has consistently driven word-of-mouth promotions via social media for 1000s of brands and delivered positive ROI results for its social media efforts.
ShopSocially has won several awards and been featured by Facebook in a Social Commerce case study. Launched in October 2010, ShopSocially is a privately held company based in Santa Clara, CA. For more information, please visit http://shopsocially.com/platform/request-a-demo