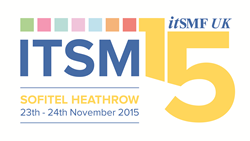 Toronto, Canada (PRWEB) November 16, 2015
The AllThingsITSM team has been invited to attend itSMF UK's annual conference, ITSM15, to record conversations with industry leaders and thought leaders in attendance.
The event, held at Sofitel London Heathrow on November 23-24, 2015, is one of the largest global gatherings of ITSM professionals, software vendors, and industry leaders. This will be the first time that the global podcast team records their podcast at two itSMF events in one month. The podcast will have a premier sponsor in Cherwell Software, and additional support from The Service Desk Institute (SDI) and itSMF UK.
Permanent host, industry thought leader, Kirstie Magowan will be joined by Simone Jo Moore, service management consultant and expert, with special surprise guests hopping on to interview guests on topics trending or hot in the world of IT.
"We are thrilled and excited to be attending this year's event" said William Goddard, founder of AllThingsITSM. "Barclay Rae, the new interim CEO of itSMF UK, has always been a huge supporter of the global ITSM community. So, when he asks your team to come, you make sure you figure out how to make it happen. Then you are told Andrew White, GM & VP EMEA at Cherwell Software, and Tessa Troubridge (SDI), managing director at SDI, offered to support the itSMF UK's desire to have us at the event, how could we say no?"
"The global ITSM podcast is doing some wonderful things in support of our community, and having them at our annual event is just one way we can support our members in attendance and those who can't make it," said Barclay Rae, CEO itSMF UK.
"itSMF UK is an important chapter for the global service management community and Cherwell Software is pleased to support that community in ways that deliver value to its membership," said Andrew White, GM & VP EMEA at Cherwell Software.
Follow the conversation on Twitter @AllThingsITSM, and don't miss the podcast on the YouTube channel.
About AllThingsITSM
AllThingsITSM was created to satisfy the different needs of a diverse marketplace through one convenient and easy to remember name. With a constant flow of new thought-provoking content from almost 50 industry leaders, a technology directory broken down into simple categories, global events calendar, jobs board and a global ITSM podcast, this web property has quickly gained a strong reputation for delivering value to the global IT community.
About Cherwell Software
Cherwell Software is the developer of Cherwell Service Management®, an award-winning business technology and IT service management (ITSM) platform recognized by leading industry analysts worldwide. Express Software Manager is their new, award-winning IT asset management software. Cherwell customers are part of a fast-growing, caring community using Cherwell Software to implement both ITSM solutions and business technology that goes beyond ITSM. Cherwell Software has the deepest expertise in the service management industry, including a global network of expert partners currently serving customers in more than 40 countries. Corporate headquarters are in Colorado, USA, with global offices in the United Kingdom, Germany and Australia.
About itSMF UK
itSMF UK is the country's leading association for organisations involved in IT service management.
Their membership is drawn from a wide cross-section of organisations, including ITSM suppliers and service providers, user organisations, training companies and academia, consultancy, standards and practice bodies, as well as independent professionals. Altogether, they have over 700 member organizations covering 7,000 individuals. Their members range from large, multinational companies to small firms working across the commercial, public and not-for-profit sectors.
About The Service Desk Institute (SDI)
The SDI company mission is to inspire service desks to be brilliant. To achieve this mission, SDI has developed a set of goals by which it aims to inspire service desks:

To raise the quality of service delivery by valuing and embracing best practice
To create an inspiring and engaging customer experience
To invest in and empower their teams to be inspired, take action and be better
To shine by demonstrating and delivering exceptional business value
SDI sets the globally recognized best practice service desk standards that provide clear and measurable benchmarks for service desk operations and professionals. The standards are designed to encourage service desks to embrace best practice in order to raise the quality of service delivery.