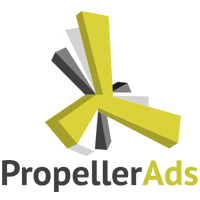 UK (PRWEB) December 21, 2015
Propeller Ads, the global online advertising network, is excited to launch its new Self-Serve Platform. The Self-Serve Advertising Platform presents advertisers and agencies with an intuitive and powerful interface that provides marketers with a more hands-on experience, where the setup and fine-tuning of campaigns can be accomplished without managers.
Propeller Ads is an industry leader, delivering 20 billion ad impressions every month, across desktops and mobile devices. With a strong focus on user experience, a self-service platform is a natural addition to the Propeller Ads network. The advertising dashboard experience presents users with an ultra-intuitive user interface for flexible campaign planning, management, and reporting.
The Propeller Ads Self-Serve Platform is already offering quick and easy campaign launching to the network of quality publishers. Advertisers can reach the right audience by targeting geography, device, operating system, mobile carrier, day of week, and more. Campaigns are built on a CPM pricing model.
Mobile developers are also benefiting from the OnClick ad format, which is delivered across all platforms and devices, ensuring a high-quality audience for apps and games. Combined with Propeller Ads' advanced targeting options, users gain access to an engaged global audience of mobile customers.
Since 2011, Propeller Ads has provided full service for successful advertising campaigns. With the Self-Serve Platform, Propeller Ads is now also able to offer advertisers the unparalleled ease and control that they have been searching for.
About Propeller Ads
Propeller Ads is an independent advertising network specializing in monetization and marketing solutions for digital media publishers, marketers, agencies and networks. Serving ads in more than 195 countries across North and South America, Europe, Asia and Africa, Propeller Ads currently delivers 20 billion ad impressions and thousands of campaigns across desktops and mobile devices monthly.
To learn more, please visit propellerads.com