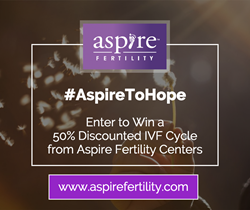 During this season of giving, thanks and wishes, we want to spread hope to couples and individuals who want nothing more than to be parents. - Aspire Fertility Founder and Chief Executive Officer T.J. Farnsworth
Houston, Texas (PRWEB) November 22, 2015
Aspire Fertility, a new group of fertility centers advancing the benchmark of exceptional patient care, celebrates the holiday season and their forthcoming Houston clinic opening with their #AspireToHope IVF Raffle.
Up to five lucky winners of this raffle will receive an in vitro fertilization (IVF) cycle at a 50 percent discount - including IVF, Intracytoplasmic Sperm Injection (ICSI), Assisted Hatching (AH), and one year of cryo-‐‐storage - at their Houston clinic, opening in January 2016.
"During this season of giving, thanks, and wishes, we want to spread hope to couples and individuals who want nothing more than to be parents," Aspire Fertility Founder and Chief Executive Officer T.J. Farnsworth shares. "We think it's a wonderful way to give back as we prepare to open our doors to patients in the New Year."
Aspire Fertility grew from a need for compassionate, comprehensive yet streamlined patient care during the fertility treatment process - a need experienced by Farnsworth himself. From first-‐‐hand, personal experience with infertility and expertise in the healthcare industry, Aspire Fertility was created to combine the most innovative practices in patient communication, medical treatments, and coordinated care.
"The result is more than just a fertility clinic," Farnsworth notes. "Aspire Fertility propels itself to be a market leader committed to a five-‐‐star patient experience every time, with no exception."
To also celebrate the hope of the holiday season, Aspire Fertility has also released a video of Farnsworth's personal story behind his idea of a new standard of fertility patient care. It all started with Farnsworth's son, Wyatt: "He's the tiny force behind our mighty purpose," he adds with a proud smile.
The moving video, "Aspire Fertility: Wyatt's Story", can be viewed on YouTube at http://bit.ly/AspireFertilityWyattStory.
The approximate retail value of each 50 percent-‐‐discounted IVF cycle is $6750.00 USD. Entrants have until 11:59 PM CST on December 31, 2015 to enter.
To enter the #AspireToHope IVF raffle, participants simply need to register their email address at http://www.aspirefertility.com/ and opt in to the IVF raffle.
About Aspire Fertility
Aspire Fertility is the only group of fertility centers that provides compassionate, expert, and innovative standards of patient care to maximize outcomes for prospective parents in the greater Houston community who want to create their families in an era of unprecedented advances in fertility medicine and information sharing.
Offering an unparalleled, compassionate experience - one that's intuitively designed from the moment patients walk through their doors - Aspire Fertility is the new group of fertility centers advancing the benchmark of exceptional patient care. We are Aspire Fertility. We create families.
#AspireToHope Online Press Kit: https://fertilityplanit.box.com/AspireToHopeMediaKit
Learn more at http://www.aspirefertility.com.
For more information, please visit the Aspire Fertility Facebook page at http://bit.ly/AspireFertilityHoustonFacebook
and Twitter (http://twitter.com/AspireIVF).