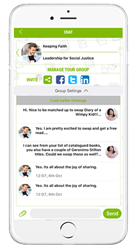 Where Old Books Meet New Friends
Singapore, Singapore (PRWEB) November 30, 2015
Novelinked is set to alter the course of growth of the book publishing industry by providing a valuable alternative to readers to swap second hand books while at the same time making new friends. This location based app was not only conceptualized by keeping in mind emerging markets with large, growing English reading populations and deficient library infrastructure but also for a global market of book readers. While the app is free to use, the real benefit to the reader is access to a "virtual library" of books they love reading.
Arvind Monie, the Founder, said, "Novelinked fits perfectly into today's world of resource sharing apps. The option to meet up with like-minded people makes it all the more compelling." Novelinked is not looking to replace buying books either, on e-readers or physically. Arvind says, "Novelinked just wants to provide another option to readers to supplement their current book buying options. Let the reader decide!"
The timing of launch of the app to the public, expected on December 7, 2015, couldn't be better with strong evidence that e-books sales are dipping while physical books have started to grow again (Source:New York Times). Differences in e-book prices are no longer as compelling compared to physical books as the publishing industry has moved to an agency model for e-book distribution. It's great to see that reading the good, old-fashioned way is back in vogue.
The app, which is available for media viewing on Google Play and App Store, is power packed with simple individual features which when put together becomes a powerful tool for an avid reader to swap books and make new friends. It can also be used to build crowd sourced book communities with common reading interests. "Truly a Novel Way of Linking People"