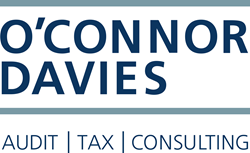 New York, NY (PRWEB) November 17, 2015
O'Connor Davies, LLP, one of the nation's fastest growing accounting and consulting firms, announced today a merger with Stanley Marks & Company, LLP, a full-service accounting firm based in Newburgh, NY. Stanley Marks has a 65-year history serving clients across a range of industries, with particularly deep expertise in the medical and commercial practice areas. This is the latest in a series of recent mergers by O'Connor Davies as the firm continues to grow its regional and national presence while building out their niche practice areas.
"This deal represents an important strategic opportunity for us to increase our depth in the high profile commercial and medical practice areas," said O'Connor Davies Managing Partner Kevin J. Keane. "The Firm brings extensive experience helping clients navigate the complex challenges facing organizations in the changing business and regulatory environments. We are pleased to welcome Stanley Marks to our expanding team of top-notch professionals."
Stanley Marks & Company LLP is a leader in accounting services for the medical practice field, working with more than 100 medical practices and more than 250 physicians, with a team of accountants specializing in the health and medical fields. The Firm also has a widely respected commercial practice, servicing a variety of clients with a focus on closely held businesses. The firm's commercial clients include manufacturers, wholesalers, retailers, construction, real estate, agriculture, non-profits and employee benefits plans.
"O'Connor Davies is a highly regarded and growing firm that provides our professionals with the strong infrastructure and resources to continue delivering the highest value for our clients," said Stanley Marks Managing Partner, Alan Marks. "This is not only a great culture fit but a great capability fit that we believe will be a catalyst for future growth. We're thrilled to join a firm with such a longstanding reputation for quality and integrity."
About O'Connor Davies, LLP
O'Connor Davies, LLP is a full service Certified Public Accounting and consulting firm with a long history of serving clients both domestically and internationally. With roots tracing to 1891, nine offices in New York, New Jersey, Connecticut and Maryland, and more than 600 professionals, led by 90 partners, the Firm provides a complete range of accounting, auditing, tax and management advisory services.
O'Connor Davies is ranked number 29 in Accounting Today's 2015 "Top 100 Firms" list and the Firm is also recognized as a "Leader in Audit and Accounting," a "Pacesetter in Growth" and one of the "Top Firms in the Mid-Atlantic." O'Connor Davies is ranked number 29 in INSIDE Public Accounting's 2014 "Top 100 Firms" list and the Firm is recognized as one of the "Top Ten Fastest-Growing Firms." O'Connor Davies is also the 11th largest accounting firm in the New York Metropolitan area, according to Crain's New York Business. By consistently delivering proactive, thorough and efficient service, the Firm has built long-lasting, valuable relationships with its clients. Partners are intimately involved in the day-to-day management of engagements, ensuring a high degree of client service and cost effectiveness. The Firm's seasoned professional staff members employ a team approach to all engagements to provide clients with the utmost quality and timely services aimed at helping them succeed. Continuity of staffing and attention to detail in all client engagements make the Firm stand out among its competitors.
O'Connor Davies is a member of PKF International, a network of legally independent member firms providing accounting and business advisory services in 440 locations in 150 countries around the world. With its tradition, experience and focus on the future, O'Connor Davies is ready to help clients meet today's ever-changing economic conditions and manage the growing complexities of the regulatory environment.