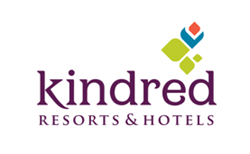 "...We continue to expand our depth and breadth of offerings of meeting planners and groups of all shapes and sizes," says Bree Brostko, Managing Director of Kindred Resorts & Hotels
RICHMOND, VA (PRWEB) November 21, 2015
Kindred Resorts & Hotels, a collection of independent resorts and hotels focused exclusively on the group and meetings market, welcomes four new properties to their North American portfolio. From the legendary and historic Greenbrier in White Sulphur Springs, West Virginia, Ocean House, the iconic New England seaside resort in Watch Hill, Rhode Island, and the family-run Purity Spring Resort in Madison, New Hampshire to Trade Winds Island Resorts on St. Pete Beach, the largest beachfront meetings resort on the west coast of Florida, Kindred now offers meeting planners and attendees more options in the northeast and southeast U.S. Information on each resort and their meeting facilities is included below. For additional details, visit http://www.meetkindred.com.
The Greenbrier, White Sulphur Springs, West Virginia
The 710-room Greenbrier has a long history of welcoming presidents, royalty and captains of industry. The Greenbrier is set on a 10,000 acre "playground" and combines world-class services and amenities with personalized service. The resort features conference facilities with more than 100,000 square feet of flexible meeting space, including 40 breakout rooms and a 16,500-square-foot exhibit hall. All meeting and group events receive a dedicated Event Service Manager to oversee event details and logistics. Meeting attendees can also enjoy five championship golf courses at The Greenbrier, tennis, the resort's world-renowned mineral spa and Casino Club and a wide array of outdoor pursuits such as off-road adventures and whitewater rafting.
Ocean House, Watch Hill, Rhode Island
Located on 13 acres of landscaped oceanfront, the intimate 67-room Ocean House is an iconic New England seaside resort. Open year-round, Ocean House pays homage to New England's golden age of hospitality with timeless elegance & renewed civility. The resort's meeting and event venues, located on the Ocean Front level and featuring ocean views and private terraces, accommodate up to 250 for corporate meetings, conferences and executive retreats. Ocean House offers a specially designed boardroom for executive or board meetings, executive training sessions and strategic think tanks. All of the resort's meeting facilities feature state-of-the-art technology and complimentary high-speed Internet access.
Purity Spring Resort, Madison, New Hampshire
The family-run, 52-room Purity Spring Resort located on a private lake and wildlife sanctuary makes for an ideal corporate retreat or small meetings destination. The resort features a wide range of meeting rooms and outdoor spaces that can accommodate groups of up to 300. Function rooms feature high ceilings and are equipped with wireless Internet access. Purity Spring Resort also offers a wide-array of outdoor team-building options such as Audubon trail hikes, guided kayak & canoe trips, mountain biking and a climbing wall.
TradeWinds Island Resorts, St. Pete Beach, Florida
For meeting planners looking for a warm-weather destination, Kindred is pleased to offer TradeWinds Island Resorts, the largest beachfront meetings resort on Florida's west coast. TradeWinds Island Resorts is located on the white sands of St. Pete Beach, consistently ranked as a top beach by TripAdvisor. The 796-room resort combines a sophisticated, tropical vibe with high-touch service. TradeWinds Island Resorts features 70,000 square feet of flexible meeting and function space, including 28 breakout rooms, tropical courtyards and beachfront terraces that can accommodate groups of up to 1,000 attendees. The new RumFish Grill℠, with a wall-to-wall aquarium, headlines the portfolio of diverse dining offerings. Group recreation options and facilities include flying with a jet pack, paddleboarding, tennis, five swimming pools, fitness center and spa.
"We're thrilled to welcome such a diverse group of properties along the east coast to our portfolio," says Bree Brostko, Managing Director of Kindred Resorts & Hotels. "From the intimate settings of Ocean House and Purity Spring Resort to the grand Greenbrier and the expansive, beachfront Tradewinds, we continue to expand our depth and breadth of offerings for meeting planners and groups of all shapes and sizes."