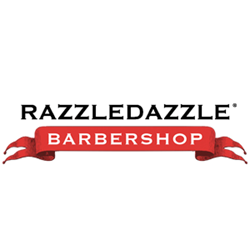 Miami, FL (PRWEB) November 16, 2015
RAZZLEDAZZLE Barbershop – an old-fashioned barbershop franchised business that creates an oasis where men receive pampering with an edge of sexiness – is announcing its franchise expansion initiative today.
RAZZLEDAZZLE's immediate growth plans call for additional expansion targeting multiple locations throughout Miami, Southern and Central Florida, Chicago, New York City, Las Vegas, and other major urban markets across the U.S.
"We've been perfecting the business model behind this fun, fresh concept for seven years now, and we've reached a point where RAZZLEDAZZLE's potential is bursting at the seams," said CEO and founder Elena Linares. "We're excited to partner with like-minded entrepreneurs who are ready to shake up the industry with us."
Specializing in haircuts, hot lather shaves, and shoeshines, RAZZLEDAZZLE Barbershop provides gentlemen of all ages with the ultimate experience in hair care and grooming services. A team of "Dazzlers" in burlesque costumes transports guests back into a different era, all while adding sexiness and swagger to a male spa-like experience.
"Our one-of-a-kind brand style and personalized services speak volumes about the impression we're making in the salon and barbershop space," Linares added. "We're offering interested business owners the tools and support they'll need to bring this dynamic concept to their own communities."
Linares' backstory is one of triumph and persistence. In 1983, she escaped New York with her eldest son to flee from an abusive husband and arrived in Miami, where she found refuge at Safespace Foundation, a shelter for battered women and their children. Starting as a stylist at Supercuts, she rapidly rose within that company, ultimately becoming a Supercuts franchise owner in 1989. She became an award-winning franchisee with 12 Supercuts throughout Puerto Rico and South Florida. Taking an entrepreneurial leap, she uncovered a niche in the beauty industry and launched RAZZLEDAZZLE Barbershop in 2008. It didn't take long for it to become one of the most popular barbershops in Miami.
Franchise owners will join a more than $60 billion dollar, time-tested industry. They will have an expert team at RAZZLEDAZZLE supporting them as they develop their respective independent business. With experienced managers, barbers and stylists taking care of clients, franchise owners can focus on growing their barbershop. RAZZLEDAZZLE will provide guidance on its easy-to-use technology and operational, personnel, and financial management training and guidance.
For more information about the franchise, visit RazzleDazzleBarbershop.com, e-mail franchise(at)razzledazzlebarbershop(dot)com, or call 305.461.4666.
About RAZZLEDAZZLE Barbershop
RAZZLEDAZZLE Barbershop is not just another place for a haircut. Voted best barbershop in Miami for two consecutive years by Miami New Times, this franchised, old-fashioned barbershop business specializes in haircuts, hot lather shaves, and shoe shines, and creates an environment where customers feel like kings. 1940s glamour and flair coalesce to add a touch of sexiness to the hair care experience at these New York-themed shops where a team of "Dazzlers" in burlesque costumes pamper gentlemen of all ages. Guests 21 and over receive a complimentary shot of whiskey or vodka – known as "sugar" – as they enjoy a hand and neck massage with their RAZZLEDAZZLE haircut.
Since launching in 2008, RAZZLEDAZZLE has brought style and sizzle to the greater Miami area with five corporate-owned locations and is continuing its expansion through a targeted nationwide franchise opportunity in urban markets.