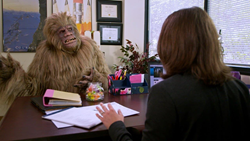 New York, NY (PRWEB) November 17, 2015
What does the legendary character of Bigfoot have to do with personal branding? The answer can be found in a new video from New York based creative agency CCG, which features an authentic looking Bigfoot seeking advice from a personal branding specialist.
With the popularity of social networks such as LinkedIn, personal branding has become critical for those seeking career and professional advancement. The video pokes fun at the corporate-speak often found in resumes, but also delivers solid career advice as Bigfoot is counselled to get a less blurry photo, use descriptions that differentiate, and to embrace his most authentic self. The result is a transformation worthy of a TED talk.
CCG teamed with personal branding consultant Delightful Communications on the video.
For more information, contact Roy Cohn at CCG at 212-333-3241.