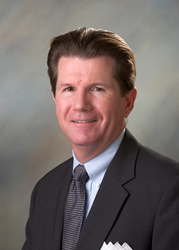 I look forward to immersing myself back into the Richmond venture capital community and assisting entrepreneurs to develop their ideas into viable and growing businesses
Richmond, VA (PRWEB) November 17, 2015
Effective December 31, 2015, Gary D. LeClair will conclude 28 years as chairman of LeClairRyan, the national law firm he co-founded as a venture capital boutique in 1988. LeClair, who served as CEO through 2010 and is now completing his final five-year cycle as chairman, will return to the full-time practice of law with the firm.
During LeClair's tenure, the firm has grown from two to nearly 400 attorneys, and is now a full service commercial firm with 25 offices stretching from Boston to Atlanta on the East Coast, Detroit to Houston in Mid-America and San Francisco to Los Angeles on the West Coast.
This event ushers in the next phase of LeClairRyan's strategic leadership transition plan as it evolves from a first-generation firm. "Like leadership in any business, law firm leadership evolves and this is a natural and long planned transition," said LeClair. "Strong and capable second-generation leaders are now writing our next chapter. They are focused on and well prepared to manage the continued growth and success of the firm amidst the rapidly changing legal marketplace. One of our core values is stewardship, leaving the firm strong for the next generation. It is comforting that our firm is executing on this."
With this transition, LeClair will be able to spend more of his time in Richmond, and once again focus his efforts on the representation of local, emerging-growth companies and entrepreneurs. A Virginia Entrepreneur of the Year recipient, LeClair is a co-founder of the Venture Forum RVA and the Greater Richmond Technology Council. He also was a member of the founding advisory board of the Council of CEOs. He recently co-founded encorepreneur!, an organization that brings together baby boomers and inspires them to stay in the game, to continue to dream, and to explore limits beyond their comfort zones in order to make their next business and personal endeavors the most rewarding and purpose driven ever.
"Having grown his own business as CEO and chairman, in addition to the experience he has gained through working on hundreds of venture capital transactions, Gary provides an experienced perspective and practical insights to entrepreneurs on both legal and business matters," said LeClairRyan CEO David Freinberg.
"I love working with entrepreneurs and am excited to once again be 100 percent dedicated to the practice," said LeClair. "Even though I have maintained a substantial practice, for the past dozen years I have primarily focused on leading our firm and our expansion across the U.S. I look forward to immersing myself back into the Richmond venture capital community and assisting entrepreneurs to develop their ideas into viable and growing businesses. The timing is ideal because the Richmond entrepreneurial market is surging, driven by groups such as Lighthouse Labs and New Richmond Ventures. This is an exciting time in Richmond, and I look forward to contributing to its entrepreneurial success."
About LeClairRyan
As a trusted advisor, LeClairRyan provides business counsel and client representation in corporate law and litigation. In this role, the firm applies its knowledge, insight and skill to help clients achieve their business objectives while managing and minimizing their legal risks, difficulties and expenses. With offices in California, Colorado, Connecticut, Delaware, Georgia, Maryland, Massachusetts, Michigan, Nevada, New Jersey, New York, Pennsylvania, Texas, Virginia and Washington, D.C., the firm has approximately 380 attorneys representing a wide variety of clients throughout the nation. For more information about LeClairRyan, visit http://www.leclairryan.com.