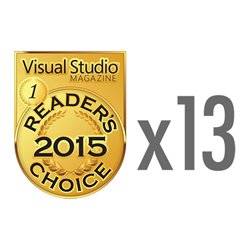 DevExpress has been consistent in its delivery of quality tools and services — and breadth of offerings — year after year . It stands to reason that readers would vote for DevExpress again this year in a number of categories
Glendale, California (PRWEB) November 16, 2015
With 31 categories and over 400 products to choose from,DevExpress and its products have been voted best in class 18 times in this year's Visual Studio Magazine Reader's Choice Awards. From the best Component Suite for the Desktop to the best Web Development Toolset, these awards help highlight our commitment to delivering high-performance, easy-to-use and feature-complete tools for Visual Studio developers worldwide.
"DevExpress has been consistent in its delivery of quality tools and services — and breadth of offerings — year after year . It stands to reason that readers would vote for DevExpress again this year in a number of categories." — Michael Domingo, Editor in Chief, Visual Studio Magazine
"It's incredibly rewarding and humbling to have been chosen for a total of 18 gold and silver Visual Studio Magazine Readers Choice Awards," said Julian M Bucknall, CTO of DevExpress. "We want to thank all of our customers for the faith they've placed in our tools, their continued support and for taking the time to vote for our products."
Visual Studio Magazine Readers Choice Gold Awards
Best Component Suite: Desktop (WinForms, WPF)
Best Component Suite: Cross-Platform (Windows, Mac, Linux, etc.)
Best Grid & Spreadsheet Component
Best Chart, Gauge & Graph Component
Best Mapping & GIS Component
Best Text, OCR & Barcode Component
Best Toolbar, Menu & Ribbon
Best Software Design, Framework or Modeling Tool
Best Software Testing & QA Tool
Best Reporting, Analytics & Visualization
Best PDF, Print Preview Component
Best Web Development Tool
Best Productivity Tool
Visual Studio Magazine Readers Choice Silver Awards
Component Suite: Web (ASP.NET, Silverlight)
General Development Tools (IDE)
Database, Data Development Frameworks
Mobile Development Frameworks
Training
Experience the DevExpress Difference Today.
Your next great app starts here. Download the free 30-day trial and see why your peers overwhelmingly voted DevExpress tools best in class for 2015.
About DevExpress
DevExpress offers feature-complete UI controls, enterprise-ready reporting systems, IDE productivity tools and business application frameworks for Visual Studio. Our technologies help you build your best, see complex software with greater clarity, increase your productivity and create stunning touch-enabled applications for Windows, Web and next generation Mobile platforms - without limits or compromise.
Join the conversation: visit us online at DevExpress.com or follow us on Facebook, Twitter and Google+.