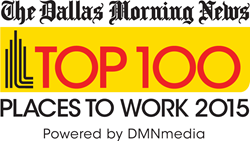 At Systemware, we passionately believe that our employees are everything.
Dallas, Texas (PRWEB) November 16, 2015
Systemware, an Addison-based leader in enterprise content management (ECM) solutions, has been ranked No. 10 among small businesses in The Dallas Morning News's 2015 Top 100 Places to Work in Dallas-Fort Worth, a competition that celebrates employers who go above and beyond for their employees. Systemware was also awarded "Best Ethics" for the company's commitment to strong values and ethics. This year marks the sixth time that Systemware has been named a Top 100 Place to Work.
Winners were chosen after analysis of more than 80,000 responses from employees at 319 companies in the Dallas-Fort Worth area. Surveys assessed employee sentiment around company connection, direction, execution, individual work, management, and pay and benefits. Systemware was singled out for generous offerings in healthcare benefits and half-day Fridays during the summer.
"At Systemware, we passionately believe that our employees are everything," said Frankie Basso, President and Chief Operating Officer at Systemware. "Every individual is essential to the success of our entire team, which is why we are committed to cultivating an environment where employees feel supported, valued and eager to be brand ambassadors to our customers."
Systemware's consistent recognition as a top workplace can be attributed to the company's initiatives to support employees personally and professionally. All employees receive access to professional development resources, including events, training and seminars to foster growth toward career aspirations.
The company promotes a top-down open-door policy and offers unique support to staff through career coaching and mentorship from the company's Chief Inspiration Officer, Scott Turner. Systemware's leadership also believes in providing every employee from administrative to executive with his or her own office to facilitate concentration and productivity.
This is the seventh publication of The Dallas Morning News's Top 100 Places to Work. To see the full list of winners, click here.
About Systemware
Systemware has been a leader in enterprise content management for more than 30 years, with its ECM solutions deployed in many of the largest organizations in the world helping them to effectively and efficiently capture, index, store and manage billions of documents. Systemware high-volume content management solutions are utilized in many industries — including financial services, insurance, healthcare and retail — to capitalize on information assets, improve customer service, reduce operating costs, support compliance objectives and facilitate better-informed business decisions. Systemware offers a variety of deployment options, including on premises, cloud and hybrid. For more information, visit http://www.systemware.com or call 1-800-535-8681.