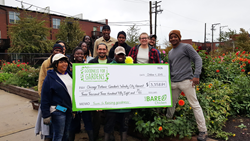 The Just BARE brand embraces the value of giving back and contributes to causes that build stronger communities.
Saint Cloud, MN (PRWEB) November 17, 2015
http://www.JustBareChicken.com — Just BARE®, a brand of natural, antibiotic-free and organic chicken, awarded $18,546.89 in donations to eight community gardens around the country. These donations come as part of Just BARE Goodness for Gardens, a donation program that recognized outstanding community garden programs focused on youth development. By striving to provide good food for more people and supporting organizations that do the same, Just BARE continues its mission of raising goodness® by delivering more goodness to more people — at the highest level possible.
"The Just BARE brand embraces the value of giving back and contributes to causes that build stronger communities," said Rory Bidinger, brand marketing manager of the Just BARE brand. "Community gardens contribute immensely to the strengthening of neighborhoods and society in general, and we're proud to be shining spotlights on the positive impact of these eight great programs."
From July 15 through September 22, 2015, consumers entered unique codes found on specially marked packages of Just BARE chicken on the brand's website. Participants then had the option to donate to one of the eight participating community gardens. Based on each garden's total consumer donations, Just BARE donated the following amounts:

Chicago Botanic Garden's Windy City Harvest in Chicago, Illinois: $3,358.91
EarthDance Junior Farm Crew in St. Louis, Missouri: $3,589.94
Food Works Farm in Portland, Oregon: $1,706.11
Promise of Peace Community Gardens in Dallas, Texas: $1,149.26
Roots for the Home Team in Minneapolis, Minnesota: $2,962.00
Sprout: The Des Moines Youth Learning Garden in Des Moines, Iowa: $1,996.39
Troy Kids' Garden– a project of Community GroundWorks in Madison, Wisconsin: $2,784.28
Wasatch Community Gardens in Salt Lake City, Utah: $1,000.00
The Just BARE Goodness for Gardens donations aim to help these gardens continue to raise goodness in their communities. According to the American Community Gardening Association, community gardening has multiple benefits: it stimulates social interaction, encourages self-reliance, beautifies neighborhoods, produces nutritious food, reduces family food budgets, conserves resources and creates opportunities for recreation, exercise, therapy and education.
For more information on each of the Goodness for Gardens donation recipients, please visit http://www.justdish.com/2015/thank-goodness-for-gardens.
About Just BARE® | Raising Goodness™
Just BARE® is distributed nationally by St. Cloud, Minn.-based GNP Company™, a provider of premium natural chicken products to retail, deli and foodservice customers. The brand lives its mission of good food for more people by providing Natural/No Antibiotics-Ever and Organic varieties of chicken with no antibiotics, no added hormones, no animal by-products (vegetable and grain fed), and no artificial additives. Just BARE Natural/No Antibiotics-Ever retail, deli and foodservice products are third-party humane certified and traceable to the family farms where the chicken was raised.
Organic Just BARE is USDA-certified organic and verified by Midwest Organic Services Association (MOSA). To find simply delicious recipes, nutrition information and general cooking and safe handling tips, visit JustBareChicken.com, JustDish.com, or The Good Plate. For more information about its "mother hen" company, which has nearly 1,700 team members and 350 family farm partners in Minnesota and Wisconsin, visit GNPCompany.com.