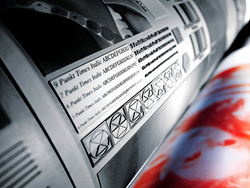 "With our in-house HD flexographic digital plate making capabilities, press check approvals go smoothly and client's jobs are in and out of the shop sooner because we're up to color quickly," said James.
DULUTH, GA (PRWEB) November 23, 2015
Diversified regularly searches out technologies that streamline processes and reduce costs. The company actively investigates and tests each new advancement as it presents itself. James Cirigliano, Director of Marketing, Diversified Labeling Solutions, "We work hard to maintain our industry leading results. One of the newer technologies we had been watching had to do with flexographic printing. It hadn't seen much change in a long time, but when Diversified learned about an HD flexographic plate maker we immediately started our investigation." A purchase decision was made as part of the company's continuing efforts to offer their customers the latest in both technology and exceptional print quality.
Esko's HD Flexo Plate Maker is raising the standards of flexographic printing and closing the gap between gravure and offset printing by combining unique print screening technologies with 4000 dpi optics to achieve a sharper, more accurate image. With the higher resolution, the optics also deliver more clearly defined, better shaped round screen dots with a higher pixel count. The rounder dot shape keeps them more stable on press, resulting in longer print run yields from a single printing plate—even more so than standard digital flexographic plates. "The plate's super textured surface results in better ink density and color control. With our in-house HD flexographic digital plate making capabilities, press check approvals go smoothly and client's jobs are in and out of the shop sooner because we're up to color quickly," said James.
In keeping with DLS's green philosophy, the company determined that HD plate making improved sustainability. Longer runs means less plate washing and water waste. With longer lasting plates, the company also has reduced their plate waste. Diversified's management team is an active member of the Tag and Label Manufacturers Institute (TLMI) and is working with the plate recycling task force to determine the best method of recycling HD plates.
The new HD Flexo Plate Maker was installed in April, 2015. After a short start-up period, it is now providing Diversified's distributors, and their customers, exceptionally high quality printed labels.
About DLS:
Diversified Labeling Solutions, Inc. prides itself in partnering exclusively with label distributors only. The company understands that its success is based on its clients' success and values the long term relationships it enjoys with its distributor base. Diversified is focused on providing the following benefits:

Highly competitive pricing and consistently excellent quality
Same day shipments on a wide selection of stock label products
Fast, reliable custom flexographic production; up to 10 colors
Digital printing UV and water based inks with in-line laser die cutting
Knowledgeable staff with strong technical expertise
Special packaging, kitting and handling
Dedicated, experienced customer service personnel
Nationwide manufacturing, distribution and support
Fast quotes typically produced in 3 hours or less
Comprehensive distributor marketing support
A team of experienced estimators and technical support personnel assist our distributors to come up with the best labeling solutions for their customers. Prompt, cost effective pricing, reliable delivery and high quality allow Diversified distributors to be a valuable resource to their end user clients.
DLS is committed to investing in new equipment, technologies, systems and personnel. By staying on top of key industry trends and always focused on growth, the company remains ahead of the business curve, and that means their clients do as well.
The DLS motto is "We Only Succeed When You Do." The company lives by that motto every day as it works diligently to support distributor's efforts and help them capitalize on label selling opportunities.