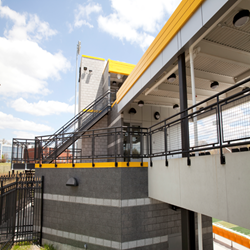 The end result was a new highly durable railing system that perfectly matched the desired aesthetics of the University, leaving all parties extremely pleased
Cincinnati, OH (PRWEB) November 17, 2015
Hollaender® Manufacturing was recently chosen to manufacture a new hand railing system at West Liberty University in Wheeling, West Virgina. The school was in search of a solution that would complement and complete the newly installed press box area located in their football stadium. Working together with M & G Architects and Engineers, also out of Wheeling, the design team wanted a railing system that could withstand West Virginia's varying outdoor climate, with low maintenance requirements. It would also need to visually complement the aesthetics of the existing stadium structure, including the school's color scheme. After careful deliberation, the decision was made to go with Hollaender's® Interna-Rail® system with a black anodized finish and powder coated welded steel wire mesh infill.
Hollaender's® Interna-Rail® handrail system is an in-line fitting based system designed to combine the clean look of welded rail with all the benefits of a mechanical system. They can be designed to meet any building code and are being used throughout the world in architectural, public works, and stadium applications.
The addition of the new press box area is a part of a much larger and longer term project to renovate the football complex at West Liberty University. Since 2009 M & G Architects and Engineers have worked with the university on numerous projects of various size and scope. When it came time to decide on a railing system, an aluminum system was chosen over conventional welded, fabricated and painted steel railings. Both options were similar in price, yet the aluminum system provided better corrosion resistance, durability, and strength with less long term maintenance.
After narrowing the search to an aluminum system the final decision was made to go with Hollaender's® Interna-Rail® system with 2" by 2" welded steel wire mesh infill panels. To complement the West Liberty University Hilltopper's colors of black and gold, the stadium was given gold accents and the aluminum portions of the railing system were e-coated with a durable black anodized finish and the steel mesh infill was given a black powder coat finish.
The end result was a new highly durable railing system that perfectly matched the desired aesthetics of the University, leaving all parties extremely pleased with the end result. Project Architect Dana Brooks of M & G Architects and Engineers stated, "All stakeholders in this project are happy with the Hollaender railing, from both an aesthetic and maintenance standpoint. In addition, the Hollaender railing's installed cost was about the same as the equivalent welded, fabricated steel system, with far better corrosion resistance and less long term maintenance."
About Hollaender Manufacturing
Hollaender is a manufacturer and marketer of aluminum structural pipe fittings, aluminum pipe, as well as final assemblies that use these components.
Hollaender is also a US market leader in the design and manufacture of complete architectural railing systems, often called "Decorative Metal Railing Systems."
Hollaender components are used in the design and build of handrail, guardrail and safety rail systems as well as a wide variety of unique modular pipe and fitting based structures for commercial, residential, public works and industrial applications, as well for retail store fixtures and other structural applications. These components and systems are marketed under the trademarked brands Speed-Rail® and Interna-Rail®. Hollaender also offers consultation, design, and project management services.