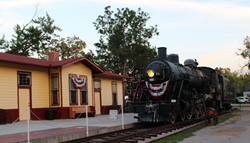 Duncan, OK (PRWEB) November 24, 2015
Begin the Christmas season with this festive event held annually in Duncan's Fuqua Park at the corner of Hwy 81 and Beech Avenue. Plan to arrive at 6:30 PM so you won't miss the lighting of Duncan's Christmas Tree at 7:00 PM, followed immediately with 30 minutes of caroling. At 7:30 the Rock Island 905 steam engine will be lit to officially begin celebrating the Christmas season in Duncan.
Visit the Christmas exhibits at the Stephens County Museum and the 905 Train Depot and Museum. There will be trains galore set up, bells to ring and children will be able to visit with Santa at the 905 Caboose and at the Stephens County Museum beginning at 6:30 PM until 8:30 PM. Hot chocolate and cookies will be available for all to enjoy throughout the event.
This magical evening is presented courtesy of Edward Jones Investments. For more information visit http://www.duncancalendar.com or call The Duncan Convention and Visitors Bureau at 1-800-782-7167.