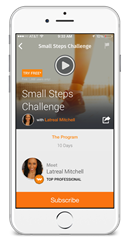 WellCaster app provides companies with a solution that makes green-lighting corporate wellness a breeze.
Los Angeles, CA (PRWEB) November 18, 2015
WellCaster, Inc. unveiled a new mobile app specifically geared for enterprise customers searching for an easy-to-implement wellness solution for their employees. With WellCaster Pro, available in both the iOS and Android app stores, companies can now provide WellCaster to their entire employee population.
The company spent the last six months listening to the market to understand what special functionality the mobile app would need to best serve an enterprise customer, ranging from employers with as few as 50 employees, all the way up to 10,000 employees. WellCaster Pro features enterprise-grade reporting, and includes new WellCast titles that are especially in-demand by corporate America including: Reducing Workplace Stress by Mahankirn and Getting Off Sugar by Gabrielle Reece. As part of this initiative, WellCaster increasingly will partner with knowledge brands seeking a new delivery mechanism to get their educational content into the market.
"After launching to the consumer market, we heard loud and clear that WellCaster was exactly what companies were looking for as a corporate wellness solution," says Mike McGraw, Founder and CEO of WellCaster. "WellCaster Pro enables us to partner with knowledge brands who directly target the corporate market and deeply care about adherence."
Recruited to spearhead WellCaster's enterprise expansion is Jay Goss, who has helped a number of technology companies commercialize their product, including: mobile video pioneer Mogreet, virtual world ed-tech company Numedeon (creators of Whyville), healthcare technology company RxVantage and early online survey firm ExecuSurv. "On the mind of everybody we speak to is adherence," says WellCaster President Jay Goss. "The behavioral science that is baked into the PRO platform significantly increases the chance that users will form a habit loop and that positive behavior change will occur. That's the mission of every WellCast."
About WellCaster - Founded in 2013, WellCaster is a mobile technology company plus wellness content production studio hybrid. As a tech firm, the company's proprietary "mobile adherence platform" is used by consumers, employers and employees as a way of going on a wellness journey, with time-released video content presenting on-phone every day in small, bite-sized increments addressing a number of different wellness areas. As a studio, the company produces high quality, video based wellness content (that is delivered via the mobile app). The end product is a WellCast, each of which is "narrated" by an engaging subject matter expert. Originally launched in NYC, the company is now bi-coastal, with operations in Los Angeles too. For more information, visit http://www.wellcaster.com/professionals/ or call (929) 256-2940. As a way of experiencing WellCaster, members of the media may contact WellCaster for a special code that will provide access to its Reducing Workplace Stress WellCast.