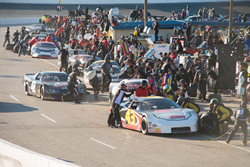 Pensacola, Florida (PRWEB) November 17, 2015
They come from small towns, big cities and different countries with the dream of winning the nation's most prestigious short track race and celebrating victory by kissing the coveted Tom Dawson trophy. Dozens of drivers are preparing for the 48th Annual Snowball Derby, but only 36 will make the cut and compete in the 300-lap race. The drivers' speed and skill along with their stories of slim victories, agonizing defeats and glorious come backs make the Derby more exciting and memorable each year.
This year's Snowball Derby will take place Sunday, Dec. 6, at Pensacola's Five Flags Speedway. The final major short track event of the year continues to grow with entries and ticket sales already surpassing last year's tremendous turn out, said Tim Bryant, general manager of Five Flags Speedway.
Super Late Model winners and champions from all across North America have already entered and are gearing up to compete. One of the most high profile drivers will be Chase Elliott, a previous Snowball Derby winner, who is set to take over NASCAR great Jeff Gordon's ride in 2016. 2014 Snowball Derby winner John Hunter Nemecheck, son of famous NASCAR driver Joe Nemecheck, also returns to try for a back-to-back win.
Sterling Marlin, a former NASCAR driver and a two-time winner of the Daytona 500 has entered the race. In addition, NASCAR Camping World Truck Series driver Daniel Hemric and Jeremy Doss, one of the top Super Late Model racers on the West Coast, will join the roster of talented drivers, competing for the Snowball Derby trophy.
While the Snowball Derby is the big attraction, it is just part of the racing action fans can experience at Five Flags during Snowball Derby week. The event kicks off Wednesday, Dec. 2, when close to 250 teams, representing seven divisions of racing, will touchdown in Pensacola to show off their skills and speed in different competitions throughout the week. A free Green Flag Party on Dec. 2 includes food, beverages, music and an autograph signing session.
On Thursday, Dec. 3, Snowball Derby and Snowflake 100 hopefuls practice. Friday, Dec. 4, brings another day of specialized racing and the anticipated qualifying for the Snowball Derby. Saturday, Dec. 5, race fans can witness Snowball Derby practice, final Derby qualifying, and the Allen Turner Snowflake 100-lap race for the top Pro Late Model racers in the country at 7 p.m. Sunday, Dec. 6, drivers participate in warm-ups and the 48th Annual Snowball Derby begins at 2 p.m.
Bryant says the speedway expects to host close to 30,000 fans over the course of the week and more than 10,000 for the Snowball Derby on Sunday. The event will continue to have a far greater reach this year as Speed 51 TV, a nationally-acclaimed Charlotte, North Carolina based website, will be hosting a live pay-per-view broadcast of the race online via Speed51.com/51livetv-events.
Tickets are still available for the greatest short track-racing event of the year, and ticket packet information and purchasing is available via http://www.5flagsspeedway.com.
For more information on accommodations or lodging for the Snowball Derby, call Visit Pensacola at (800) 874-1234 or visit http://www.visitpensacola.com.
##
About Visit Pensacola
Visit Pensacola leads the effort of economic development through tourism in Escambia County. Comprised of over 200-member businesses, Visit Pensacola's mission is to position the Pensacola Bay Area as a premier year-round travel destination through tourism marketing, communications, meetings and conventions, reunions and group tour initiatives. For more information about Visit Pensacola, call 1-800-874-1234 (toll-free) or go to VisitPensacola.com.