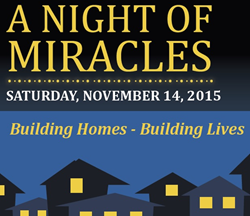 One more family now has a place to call home, and because of that, a brighter future.
Denver, CO (PRWEB) November 17, 2015
On Saturday night, November 14th, a local Denver family received the keys to their new home at the fourth annual Night of Miracles. To make this moment even more special for the family, they received the keys to the applause of a ballroom full of people who had helped make the dream of homeownership a reality for them.
Zunesis, a Denver-based IT solution provider, has partnered with Habitat for Humanity of Metro Denver for many years to provide funding, volunteer hours, and even leadership on Habitat's board of directors. Believing so strongly in the value of what Habitat for Humanity does, Steve Shaffer, CEO of Zunesis, wanted to involve not only his company and employees with Habitat but also his business partners.
Thus, the Night of Miracles was born. First, Zunesis goes about raising money – enough money, in fact, to fully fund a Habitat home in the Denver-Metro area. Aside from Zunesis, the primary donors come from their incredible partner business community. Once the Night of Miracles rolls around every November, all of the funds have already been raised; so the evening exists solely for three things:
1. Celebrate the incredible accomplishment of funding and building a home for a deserving family
2. Educate the community about Habitat for Humanity's work and mission
3. The highlight of the annual event – Hand the keys of the new home over to the partner family.
Asked about Night of Miracles, Shaffer responded, "The Night of Miracles is a celebration. It's a celebration of community, partnership, and generosity. But most of all, it's a celebration that one more hard-working family now has a place to call home, and because of that, now has a brighter future."
A special thanks goes out to this year's Night of Miracles sponsors: Arrow Electronics (Title Sponsor); Zunesis (Platinum Sponsor); Health Images, FORTRUST Data Center, SYNNEX Corporation, and Zerto (Gold Sponsors); and Digitek Computer Products, B&J Surveying, and StoneBilt Concepts (Silver Sponsors). Thank you for joining in making the world a better place, one home at a time!
About Zunesis
Zunesis is a leading IT solution provider with locations in Colorado and Nevada. Our vision centers around an intense focus on serving our customers and bringing value to their business through strategic IT solutions. In April 2015, Zunesis was named to the CRN TechElite 250 for the 6th consecutive year as a best-of-breed solution provider with deep technical expertise and premier certifications. Later in 2015, they were also added to the CRN Next-Gen 250 list, recognizing them for their innovation and forward-thinking in the industry. For more information visit http://www.zunesis.com, the Zunesis Blog; or follow us on LinkedIn and Twitter.