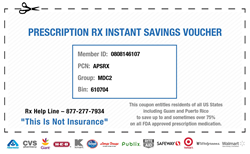 Atlantic City, NJ (PRWEB) November 18, 2015
November 19 marks this year's Great American Smokeout Day, when everyone who uses tobacco products is encouraged to quit for the day – and to consider quitting for good. About 1 in 5 American adults still smokes cigarettes regularly. While quitting is hard, there are countless resources available to help people kick the habit permanently. Medicationdiscountcard.com provides prescription discount cards on all of the most frequently prescribed smoking cessation drugs.
Chantix
Chantix is one of the few drugs developed specifically for people who want to quit smoking. The drug works by reducing the "reward" sensation of smoking and easing the symptoms of withdrawal. People usually start taking Chantix about a week before their "quit day." To make a prescription more affordable, Medicationdiscountcard.com offers Chantix discount cards that can be printed straight from the website.
Zyban
Zyban is an antidepressant that was not originally developed as a quit-smoking aid. Later research found that the drug worked to reduce cravings associated with nicotine withdrawal. The drug help many people deal with the long-term psychological aspect of quitting smoking. Medicationdiscountcard.com offers a Zyban prescription discount card to save people money at the pharmacy counter.
Nortriptyline
Like Zyban, some medications intended for other conditions have been found to be helpful for smokers sincerely desiring to quit. The antidepressant nortriptyline is one such medication. Research suggests smokers can double their chances of quitting successfully when using this drug, especially when they're intolerant of Chantix or Zyban. Nortriptyline discount cards can reduce the cost of this prescription drug by as much as 75%.
Clonidine
Clonidine is a high blood pressure medication that also improves smokers' chances of quitting permanently. The medication is available as a skin patch or in pill form. When using a medication in an "off label" capacity, it's important for patients and their doctors to be in good communication about possible side effects and complications. Medicationdiscountcard.com's website includes a free, easily printable clonidine discount card to help smokers kick their habit without breaking the bank.
Note: The information above is intended to supplement, not substitute for, the expertise and judgment of your physician, pharmacist or other healthcare professional. It should not be construed to indicate that use of the drug is safe, appropriate, or effective for you. Consult your healthcare professional before using this drug.
About Medicationdiscountcard.com
Medicationdiscountcard.com was started to provide discounts on prescription drugs to those who need it most. Our goal is to provide you with the largest savings possible when compared to other cards. We invite you to compare the savings our card will provide to that of other leading providers.