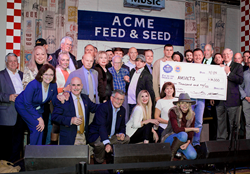 I'm reminded of the words of Sir Winston Churchill, 'We make a living by what we get, but we make a life by what we give.' The Heroes Vodka donation to AMVETS makes a difference in the lives of brave men and women who fight for our country. – Travis McVey
Nashville, TN (PRWEB) November 18, 2015
Heroes Vodka and its founder, U.S. Veteran Travis McVey, will present an official "giveback" check for $14,000 to AMVETS on Dec. 9, 2015 at the Union League Club, located at 38 E. 37th St, New York, NY 10016. The presentation will be made between 5-7PM in the bar area of the Club.
Now in its fourth year, Heroes Vodka's annual donation to help support Veterans' programs is an ongoing commitment by the award-winning spirit to give back a portion of every purchase to benefit U.S. Veterans and their families. McVey dedicates the month of November to American Heroes by traveling to stores and bars that sell his product and personally thanking them for their support. He also takes the opportunity to pose for photos with the official donation check.
"Each year around Veterans Day, I'm reminded of the words of Sir Winston Churchill, 'We make a living by what we get, but we make a life by what we give.' Because of the continuing support from Heroes Vodka fans, our annual donation to AMVETS makes a difference in the lives of brave men and women who fight for our country," says McVey.
Since its market launch in 2012, Heroes Vodka, a naturally gluten and glycerin free spirit, is bottled at the historic Buffalo Trace Distillery in Frankfort, KY. Heroes Vodka is the proud recipient of nine gold and silver medals for exceptional taste, awarded in blind tastings, including the prestigious 2015 San Diego International Spirits Competition.
The mission of Heroes Vodka is to provide exceptional taste and superior value to consumers, while honoring Veterans and other American service organizations through charitable contributions. A portion of every Heroes Vodka purchase goes to its Giveback Partner, AMVETS, to develop community assistance programs for American Veterans, active duty military and their families. To date, Heroes Vodka has donated $34,884 to support America's military Heroes.
In November 2015, McVey is traveling cross country visiting markets in Indiana, California, Tennessee, New Jersey, Connecticut, Massachusetts, Mississippi, Alabama, and New York. He carries an over-sized check to present to the stores, restaurants and bars that sell Heroes Vodka. As he poses for photos with the owners and staff, one important thing never escapes his mind; McVey truly believes it is the responsibility of each generation to honor and remember the enormous commitment and sacrifice Veterans have made to ensure and protect our most precious resource – America's freedom.
ABOUT HEROES VODKA
Heroes Vodka is an award-winning, Veteran-owned premium American vodka. It was first bottled on Veterans Day – 11.11.11 – a date that occurs only once in a century and epitomizes the rarity of this event. A gluten-free spirit, Heroes Vodka has received multiple Gold and Silver Medals in national Tasting and Spirit Competitions. Made from 100% American corn, each batch is distilled four times to create an ultra-pure, world-class spirit. The mission of Heroes Vodka is to deliver exceptional taste and superior value to consumers, while honoring Veterans and other American service organizations through charitable contributions. Every purchase of Heroes Vodka supports American Veterans through AMVETS, its Official Giveback Partner. HeroesVodka.com
ABOUT TRAVIS MCVEY, HEROES VODKA FOUNDER & U.S. VETERAN
Travis McVey is a U.S. Marine Corps Veteran who proudly served as a Presidential Honor Guard from 1989-1992. An innovative and determined entrepreneur, Travis endured the life-changing tragedy of a good friend dying in combat in the War Against Terror in Afghanistan. The experience paved the way for the production of Heroes Vodka, which donates a portion of every sale to AMVETS, helping to make a difference in the lives of the brave men and women who have sacrificed for our country. McVey is a member of NaVOBA (National Veteran-Owned Business Association) and author of "Heroes of the Stage: Country Serving Country." He serves as a correspondent for Vets on Media and has been a keynote speaker at multiple Veteran Advocacy events, including the AMVETS National Convention. McVey currently resides in Nashville, TN.
ABOUT R.S. LIPMAN COMPANY
R.S. Lipman Company is a Nashville-based international supplier of wines, spirits, beers, and mixers. The company's diverse portfolio includes: Country Club Vodka (established in 1957), Lonely Cow Wines from New Zealand, Hap & Harry's Tennessee Beers, U.S. Veteran owned Heroes Vodka, Red Eye Bloody Mary Mixes, El Diamante del Cielo Tequilas, Old Hickory Great American Whiskeys, Hidden Jewel California Wines, Saturday Night Red Wine and the Napa Smith Brewery collection of craft beers. RSLipman.com
ABOUT AMVETS
A leader since 1944 in preserving the freedoms secured by America's armed forces, AMVETS provides support for Veterans and the active military in procuring their earned entitlements, as well as community service and legislative reform that enhances the quality of life for this nation's citizens and Veterans alike. AMVETS is one of the largest congressionally-chartered Veterans' service organizations in the United States, and includes members from each branch of the military, including the National Guard and Reserves. AMVETS.org