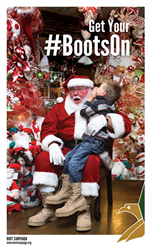 Dallas, Texas (PRWEB) November 17, 2015
The holiday "spirit of giving" can be multiplied exponentially when the giver chooses gifts that not only create joyous smiles on the faces of recipients, but also bring essential help to others in need.
Boot Campaign, a national military nonprofit, has the perfect online retail store featuring stylish combat boots, apparel, and mission-focused merchandise for all ages. All merchandise sales support the organization's mission to promote patriotism, raise awareness of challenges facing veterans and service members, and provide assistance to military families. In addition to proceeds benefiting veteran and military programs, every purchase and gift received features a double bonus of pride and patriotism that is 100-percent free!
"The holidays are a special time of year and Boot Campaign is excited to help consumers spread the holiday cheer in support of our troops and veterans who sacrifice so much for our freedom," says Boot Campaign CEO Robyn Payne. "Our online store is a key to the success of our mission and we have worked hard to stock the shelves with a wide variety of affordable products that everyone can enjoy. The gifts have the power to change lives, a small detail that means big things for America's heroes."
The Boot Campaign online store at http://shop.bootcampaign.org/ is filled with goods for family and friends, including quality gear with name brands like Under Armor, Bates, SWAT, DuraShocks, and Tac Force, to name a few.
The following are a few of Boot Campaign's fan favorites:
Boot Campaign boots from makers like Under Armour, Bates, SWAT, DuraShocks, and Tac Force are not your momma's combat boots, unless your momma was in the military. At least $50 per boot purchase supports the Boot Campaign mission, making every step count in changing a veteran's life. They are ultra-durable and crazy comfy.
Handcrafted by combat-wounded veteran Omar Milan, the Boot Campaign paracord bracelet is available in three sizes and two colors, looks fabulous on everyone and comes in handy during any emergency requiring 10 feet of paracord.
Get cozy in a Boot Campaign-branded hoodie. Ridiculously soft and lightweight enough for showing patriotism year-round, you'll want to grab one for yourself, too.
For more great gift ideas for everyone on your gift list that ALSO benefit our active duty and veteran programs, check out the Boot Campaign store:
Gifts for Him:
http://shop.bootcampaign.org/collections/gifts-for-him
Gifts for Her:
http://shop.bootcampaign.org/collections/gifts-for-her
Boot Campaign's online store is open 24 hours, seven days a week, while the retail warehouse is open Monday-Friday, 9 a.m. to 5 p.m. CST. For customer service assistance, email store(at)bootcampaign(dot)org or call 512.869.2685.
About Boot Campaign
Established in 2009, Boot Campaign is a national 501(c)(3) charitable organization dedicated to promoting patriotism for America and our military community; raising awareness of the unique challenges service members face during and post-service; and providing assistance to military personnel, past and present, and their families. Retail sales of combat boots, apparel, and mission-focused merchandise, general public donations, and corporate sponsorships fund programs that support military families. Learn more at http://bootcampaign.org and join the #BootsOn community on Facebook, Twitter, and Instagram @Bootcampaign.