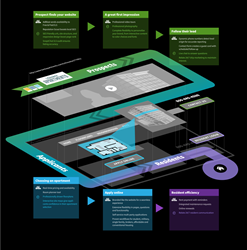 At On-Site, we've offered do-it-yourself template web designs for several years. But our customers have continually told us that they are looking for a more personalized approach to their online brand.
San Diego, Calif. (PRWEB) November 17, 2015
On-Site.com today affirmed its commitment to delivering a best-in-class solution to apartment managers and renters in announcing that it has acquired the assets of Ellipse Communications. Dallas-based Ellipse is a market leader with a broad offering of communications and digital marketing tools for the multifamily business.
On-Site announced the union as the teams convened here at NMHC's OpTech conference, the apartment industry's epicenter for strategic business operations and technology.
"We are thrilled to have found a home in On-Site," said Laura Trussell, creative director at Ellipse. "It's a great fit for our customers since our products fit together so perfectly. OpTech is the perfect backdrop to unveil the partnership of two technology leaders."
Based in Silicon Valley, On-Site designed the nation's leading online leasing solution. The company's software-as-a-service platform streamlines the process of renting an apartment, from listing to lease and everything in between – including advertising management, application and payments, background checks and e-signatures. Its software is used by nearly 15,000 communities in the United States.
Ellipse's offerings will be incorporated into a recently created division called Ellipse Design, a creative agency that offers cutting-edge approaches to attract and then retain today's renter. The studio delivers custom-designed websites and advertising campaigns for apartment communities and management companies, 3D floorplans, interactive site maps, HD video tours, SEO strategy and robust analytics.
"At On-Site, we've offered do-it-yourself template web designs for several years," said Jake Harrington, On-Site's Chief Executive Officer. "But our customers have continually told us that they are looking for a more personalized approach to their online brand. Ellipse is expert in just that: building and supporting creative, purpose-built tools for driving leases and raising resident satisfaction. I'm excited to strengthen our bench and supplement our solutions for multifamily operators. We intend to maintain and build on the talent at Ellipse."
Ellipse shares On-Site's strategy of designing user-friendly software that is device-agnostic, recognizing that today's users are increasingly using mobile phones and tablets. Its flagship offerings are custom-designed websites that entice prospective renters and drive leasing activity. Its proprietary technology syncs data with third-party property management software, and will supplement On-Site's commitment to strong interfaces with other providers.
The Ellipse suite also includes a command center to communicate with prospects, renters, employees and vendors via email and SMS text. Ellipse services include a tool to audit a property's classified listings and mystery shopping to benchmark a leasing staff's customer service quality. These services now augment On-Site's AdBlast™, lead management, and Reputation Scout™ products – a suite that syndicates listings, scores incoming leads, engages with prospects and monitors online rankings and reviews.
"We have continued to roll out improvements to our offerings like click-to-chat, two-way texting and single sign-on – all of which make it more convenient to lease apartments and live in a multifamily community," said Trussell. Founded in 1999, Ellipse serves nearly 2000 communities and handles 21 billion transactions monthly.
Ellipse Design's professional services supplement On-Site's toolkit for digital marketing, online leasing, payments, screening, e-signature, CloudFile™ storage and seamless accounting integration. Customers benefit from a one-stop front office platform and world-class support team to ensure success at all levels.
About On-Site
Founded in 1999 with technology and service 100% based in the U.S., On-Site is bringing the apartment industry up-to-speed with what today's consumer expects from the renting experience: modern technology and a focus on usability. On-Site's end-to-end platform covers everything from community marketing and renter qualification to lease contract generation with e-signatures and online storage. Plus integrated communication hubs to drive resident retention after move-in. The result is a simplified rental experience that leads to greater customer satisfaction and translates directly to the positive side of the balance sheet. For more information about On Site's leasing solutions, visit http://www.on-site.com or contact one of On-Site's online leasing experts at (855) 667-6500.