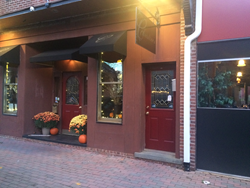 Atlantic Hightlands, New Jersey (PRWEB) November 16, 2015
Less than ten years ago, Ron Marino was engulfed in the life of a Wall Street entrepreneur working in Manhattan, New York, and now he is the owner of one of the busiest restaurants at the Jersey Shore. Christine's Italian Ristorante, located in Atlantic Highlands, New Jersey has served famous faces, and been featured on several television shows in its three short years in business and the word is continuing to spread around town.
After hanging up his suit and tie in 2008, Marino took some time off from his 25-year-old career, focusing on his passion for the culinary arts. He spent summers working with a partner on some seasonal cooking jobs on the boardwalk before branching out on his own. "It gave me the opportunity to make some crazy dishes," said Marino. "That's when I realized that I wanted to own my own place because what I was doing was only seasonal." Christine's Italian Ristorante took over the 130 year old building (the 2nd oldest building in town) in Atlantic Highlands, New Jersey in 2012, ten days before Hurricane Sandy devastated the area. The rookies immediately sprang into action and prepared meals for first responders during the chaotic time. "I hit the ground running," said Marino. "Everyone else followed suit. I'm proud of the staff."
The family-owned business, which occupies the venue of several other notable restaurants before it, had big shoes to fill upon opening three years ago. Popular eateries such as The Harbor Side, The Wine Loft and the Copper Canyon locational reside on the same street, First Avenue. "I always said that I wanted a restaurant that's fine dining but not stuffy; still casual," said Marino. "I'm really blessed, we fill up every night." Besides the area's impressive history, much of Marino's success stems from his homemade, original dishes. "I've traveled a lot. Most recipes are interpretations of where I've eaten," said Marino. "That's the things that I enjoy doing." The persistent chef joked that he spent five years trying to pinpoint the recipe of a meal he enjoyed at a restaurant in Long Island. "Wherever I go, I try everyone's food that I'm with and if I really like something, I asked the chef for the recipe. If the chef isn't willing to give it to me, I try to figure it out on my own and often times it comes out even better."
Crowd favorites from the menu include Veal Meatballs, Veal Chop, and their signature appetizer, Italian Eggrolls, which Marino relies heavily on fresh ingredients to perfect. "I was tired of going where everyone else goes to get my ingredients," said Marino. "I get them from different purveyors and I pick my own vegetables. It's all fresh, that's what I think makes it a step above everyone else." The restaurant has also received praise for recently being chosen as the Best BYOB Restaurant in Monmouth County by the Asbury Park Press, an honor for the employees who are mostly family and friends of the owner. "These guys are like my kids," said Marino. "The chefs do as well if not better than I do and the wait staff makes sure everyone is taken care of at all times. We have a really good reputation."
Several well-known names have taken a liking to the fine Italian cuisine including former Daily Show host, Jon Stewart, and cast members from the Bravo reality television show, The Real Housewives of New Jersey, which filmed a segment at the restaurant. "I treat everyone the same no matter who you are," said Marino. "If you do something different, it's not going to come out the way you want it to. I'm very proud that I do it that way, it's like a lie if you don't." The restaurant has also been featured on the entertainment series, Celebrity Taste Makers, where Bruce Springsteen and the E-Street Band drummer, Max Weinberg appeared as a celebrity guests to share his go-to meal when dining at the eatery.
Although weekends typically involve a waiting list for reservations, there are no plans for a second location anytime soon. "It's tough to reproduce something that is so quaint and unique," said Marino. "At the moment, that is off to the future." Guests can enjoy the newly added outdoor area offering much more availability for busy evenings. "I just wanted to get here; I didn't know that I was going to get here. Just proud that we are doing so well; takes a lot of work," said Marino. "I'm very happy, very grateful that things are running the way they are."
Christine's Italian Ristorante is open Tuesday through Sunday for dinner. Private party space can be reserved on weekends; upcharge on Friday and Saturday nights. On and off-premise catering is available as well. For more information, visit their website at ChristinesItalianDining.com or call 732.872.4790.
About Bielat Santore & Company
Bielat Santore & Company is an established commercial real estate firm. The company's expertise lies chiefly within the restaurant and hospitality industry, specializing in the sale of restaurants and other food and beverage real estate businesses. Since 1978, the principals of Bielat Santore & Company, Barry Bielat and Richard Santore, have sold more restaurants and similar type properties in New Jersey than any other real estate company. Furthermore, the firm has secured in excess of $500,000,000 in financing to facilitate these transactions. Visit the company's website, http://www.123bsc.com for the latest in new listings, property searches, available land, market data, financing trends, RSS feeds, press releases and more.