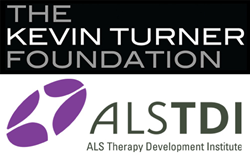 Brentwood, TN (PRWEB) November 17, 2015
The ALS Therapy Development Institute announced today that former University of Alabama football and NFL stars, Kevin Turner and Kerry Goode, who joined forces in their shared fight against ALS, have issued a challenge to all University of Alabama and Auburn fans to benefit the imperative work to find effective treatments and cure for ALS by supporting research at the ALS Therapy Development Institute.
Supporters are encouraged to go to: https://www.crowdrise.com/IRONBOWLALS and support their team of choice. Whichever team raises the most money by game day, the other team reps will wear their opponents' colors at the Iron Bowl.
Specifically answering the call is Ian Hogg, a former Auburn Football Manager and USMC War Veteran, who has been living with ALS since 2009. "If agreeing to wear crimson on game day is what it takes to further the important research going on at ALS TDI, then I am all in." The same sentiment is echoed by Turner and Goode.
For more information and to donate, visit https://www.crowdrise.com/IRONBOWLALS.
About the Kevin Turner Foundation
The Kevin Turner Foundation has been created to bring attention to ALS and the need for a cure; to raise awareness about the seriousness of brain trauma in athletes at every level of competition and its connection to motor neuron diseases like ALS; and to financially support efforts to study, treat, prevent and ultimately cure this disease. http://www.KevinTurnerFoundation.org
About the ALS Therapy Development Institute
The ALS Therapy Development Institute and its scientists actively discover and develop treatments for ALS. The Institute is the world's first and largest nonprofit biotech focused 100 percent on ALS research. Led by ALS patients and their families, the charity understands the urgent need to slow and stop this horrible disease. Based in Cambridge, MA, the Institute has served as one of the leaders in sharing data and information with academic and ALS research organizations, patients and their families. For more information, visit http://www.als.net.
Media Contacts:
Tamara Alan, Esq.
The Kevin Turner Foundation, Brentwood, TN
Office: 615-601-1002; Email: tamara(at)kevinturnerfoundation(dot)org
Mari Cody
ALS Therapy Development Institute
Office: 617-441-7220; Email: mcody(at)als(dot)net