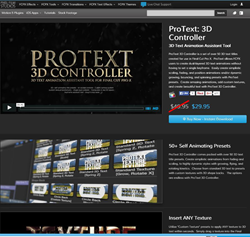 Create amazing animations, add custom textures and create beautiful text all with-in ProText 3D Controller.
Aliso Viejo, CA (PRWEB) December 21, 2015
ProText 3D Controller is a set of over 50 3D text titles created for use in Final Cut Pro X. ProText allows FCPX users to create dual-layered 3D text animations without having to set a single keyframe. Easily create simplistic scaling, fading, and position animations and/or dynamic growing, bouncing and spinning presets with ProText presets. Create amazing animations, add custom textures and create beautiful text with ProText 3D Controller.
Utilize "Custom Texture" presets to apply any texture to 3D text within seconds. Simply drag a texture into the Final Cut Pro X timeline and insert it into the drop zone provided. Within 3D text controls, freely manipulate the brightness, pattern position & rotation and scale of the custom texture.
ProText: 3D Controller features an optional reflective floor that allows users to create the illusion of realistic text reflections. Use reflection controls to manipulate reflectivity, reflection blur and falloff. Manipulate the blend method to find the perfect composite technique for any type of footage.
Create any 2 point camera angle with ProText 3D Controllers functionality text animation presets. Instantly create booming, sweeping, sliding and dollying camera movements with the adjustment of simplistic controls. First, move the play-head to the first frame of the title preset and adjust the starting camera controls. Next, move the play-head to the last frame of the preset and adjust the end controls - ProText 3D Controller will do the rest.
"Final Cut Pro X is lacking some essential plugins. We intend to satisfy the needs of fans of FCPX around the world and get them what they need." Said Christina Austin, CEO of Pixel Film Studios.
Established in 2006, Aliso Viejo, California-based Pixel Film Studios is an innovative developer of visual effects tools for the post-production and broadcast community. Their products are integrated with popular non-linear editing and compositing products from Apple FCPX. Apple, the Apple logo, Mac OS X, and Macintosh are registered trademarks of Apple Inc. in the U.S. and/or other countries. All other trademarks and trade names are the property of their respective owners.