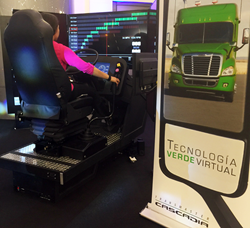 "We are honored to be working with such a prestigious brand as Daimler/Freightliner", said Rebecca Hudson, VP of Marketing and Sales of ATS.
St. Petersburg, FL (PRWEB) November 20, 2015
ATS has introduced its patented simulator technology at the ExpoTransporte in Guadalajara, Mexico from November 18 - 20, 2015. This leading-edge technology will enable Daimler/Freightliner to take a green approach to product sales.
Daimler/Freightliner has ordered a customized simulator to more effectively demonstrate to potential customers the capabilities of their unique product solutions. Daimler/Freightliner will feature the simulator in one of their full-sized Freightliner Cascadia Day Cabs. Thanks to ATS's patented simulator technology, and to IMX - Drive Skills LLC's software development and integration, Daimler/Freightliner customers will be able to test drive their products, without ever leaving the showroom.
"Having ample experience and presence in the Hispanic-America transportation sector allows our management and product development team a unique understanding of the Daimler/Freightliner requirements and expectations." commented Enrique Mar, COO of ATS.
Daimler/Freightliner expects that the capabilities offered by ATS's in-cab simulator will reduce fuel costs, and, ultimately, gain them increased product sales.
ABOUT ATS
Founded in 2008, Advanced Training Systems LLC is a designer, developer producer of interactive driver training simulator systems for multiple types of land wheeled vehicles. With combined experience of 100 years, ATS offers a patented training methodology to train student drivers to acquire a Commercial Driver's License as well as train experienced drivers in need of continued or rehabilitative training. The ATS innovative and self-paced training approach allows the ATS systems to be offered at a much less expensive cost than previously seen in the market. For more information about ATS and its patented simulator technology, please contact Rebecca Hudson, VP Sales and Marketing, at 1-800-870-5782 ext. 204.