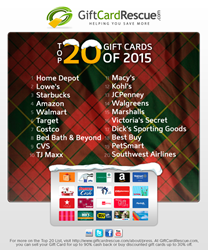 The drop in demand of discount super stores could be a direct result of the improving economy--it shows that people have discretionary money to spend on other things besides the basics. - Kwame Kuadey
Columbia, MD (PRWEB) November 17, 2015
GiftCardRescue.com, the Inc. 5000 gift card exchange company that allows consumers to purchase gift cards at a discounted rate and sell unwanted gift cards for cash, announced their annual Top 20 Most Wanted Gift Card list for the eighth consecutive year. Topping the list for the second year in a row are home improvement retail giants Home Depot and Lowe's. Other notable merchants in the Top 10 include Starbucks, Amazon, Walmart, Target, and Costco. This is the first year that Costco has been ranked in the Top 10 on the Most Wanted Gift Card list.
This year's Top 20 list is based on a national sample of approximately 26,000 gift card wish lists. Making the list for the first time are Southwest Airlines and PetSmart. "This year, home improvement gift cards took the top spots for the second year in a row, while Walmart, which used to dominate the list a few years ago, has dropped a few spots," says Founder and CEO, Kwame Kuadey. "The drop in demand of discount super stores could be a direct result of the improving economy--it shows that people have discretionary money to spend on other things besides the basics."
This shopping season, an increasing number of consumers plan take advantage of holiday discounts and splurge on themselves. According to the National Retail Federation, consumers will spend an average of $131.59, up from $126.37 last year. On top of that, almost half of holiday shopping will be done online this year. This trend in consumer holiday shopping is directly reflected in this year's Most Wanted gift cards, especially the increased demand for gift cards in an electronic format.
The 2015 Most Wanted list breaks down the top gift cards by category, including Superstores, Restaurants and Grocery, Babies and Toys, Electronics and Appliances, Health and Beauty, Sports and Outdoors, and Travel and Vacation. For images of the Top 20 Most Wanted Cards for 2015 and a further breakdown of merchant categories, visit https://www.giftcardrescue.com/about/press/11/16/2015/most-wanted.
Here is the list of the Top 20 Most Wanted Gift Cards of 2015, listed in order of popularity:
1. Home Depot
2. Lowe's
3. Starbucks
4. Amazon
5. Walmart
6. Target
7. Costco
8. Bed Bath & Beyond
9. CVS
10. TJ Maxx
11. Macy's
12. Kohl's
13. JCPenney
14. Walgreens
15. Marshalls
16. Victoria's Secret
17. Dick's Sporting Goods
18. Best Buy
19. PetSmart
20. Southwest Airlines
About the Top 20 Most Wanted Gift Cards Survey
Gift Card Rescue.com has been surveying its customers the past eight years for their annual Top 20 Most Wanted Gift Card list. Results for this year's survey are based on a national sample of approximately 26,000 gift card wish lists. The sample period is from January 1 - November 16, 2015. The survey results are used to develop the Top 20 Gift Card list for the year and help consumers during the holiday shopping season.
About GiftCardRescue.com
Based in Columbia, Maryland, Giftcardrescue.com is a leading gift card exchange site. GiftCardRescue.com's main focus is helping consumers save more; offering up to 40% off on discounted gift cards to over 700 national merchants, as well as, up to 92% cash back for unwanted gift cards. GiftCardRescue.com guarantees all transactions and is backed up by the best customer support team in the industry.