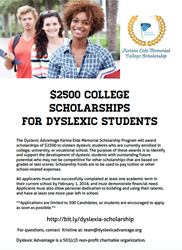 ...provide a group of outstanding dyslexic young people the opportunity to nurture their strengths
Seattle, WA (PRWEB) November 17, 2015
Dyslexic Advantage, a nonprofit organization dedicated to improving the understanding, education, and employment of individuals dyslexia by focusing on their strengths, is pleased to announce the Dyslexic Advantage Karina Eide Memorial Scholarship Program.
This scholarship program will award $2500 scholarships to sixteen dyslexic students who are currently enrolled in college, university, or vocational school. Applicants must have successfully completed at least one academic term in their current school by March 1, 2016, and have at least one year remaining in school.
These awards will support the development of dyslexic students with outstanding future potential but who may not be competitive for scholarships based on grades or test scores. Winners will be selected for having shown a special dedication to developing and applying their personal strengths.
Dyslexia is a common brain-based learning difference affecting approximately one in six individuals. It is usually identified in students of normal to high intelligence who show unexpected challenges mastering accurate and/or fluent word reading, spelling, and other basic academic skills. However, dyslexia has in recent years come to be seen as a processing difference rather than a deficit, because dyslexic individuals often show outstanding strengths in areas like spatial reasoning, creative and intuitive problem solving, strong memory for and ability to learn from personal experiences, and strengths in future prediction and trend spotting.
"The purpose of this scholarship is to provide a group of outstanding dyslexic young people the opportunity to nurture their strengths, build their self-confidence, and achieve success" said Dyslexic Advantage co-founders Drs. Fernette and Brock Eide.
The final deadline for completing the application to the Dyslexic Advantage Karina Eide Memorial Scholarship is March 1, 2016, but only 300 applications will be accepted. Once the 300th application is received the application process will close, so students are encouraged to submit their application as soon as possible.
To learn more about the scholarship or to submit an application, please visit:
https://bit.ly/dyslexia-scholarship
Contact:
Fernette Eide M.D., Co-Founder
Dyslexic Advantage
Voice Phone: 1-800-757-8310 x 705
Fax Number: 425-609-0050
Email: drseide(at)dyslexicadvantage(dot)org
Website: http://dyslexicadvantage.org
###