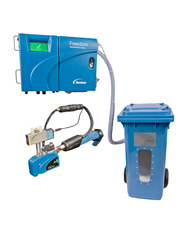 Tokyo, Japan (PRWEB) November 18, 2015
Nordson Corporation (Nasdaq: NDSN) was honored with two Japan Pack Awards for Outstanding Performance and Energy Saving at the Japan International Packaging Machinery show (Japan Pack). A committee from the Japan Packaging Manufacturer's Association selected from a field of over 40 companies to honor those with outstanding products and technologies.
Nordson received both awards for its Freedom® Hot Melt Adhesive Dispensing System, which features innovative, tankless auto-fill technology; energy-efficient MiniBlue® II applicators and a distinctive vertical-mounting design. Tankless hot melt systems improve functionality and safety on a packaging line with auto-fill technology that intermittently supplies room-temperature adhesive to the melter, minimizing operator exposure to molten adhesive as well as bending and lifting injuries associated with manual melter filling. Tankless systems also feature small heated reservoirs that require less energy while maintaining a stable temperature for adhesive melting, reducing char and degradation that can occur in conventional tank melters.
MiniBlue II applicators offer short warm-up times as well as an energy-efficient slim design and insulated covers. The applicators also feature a long service life with reduced downtime and replacement parts.
Unlike traditional cube-shaped tank melters, the Freedom melter saves space using a vertical footprint that allows it to be mounted almost anywhere within parent machinery, on a wall or on available fixed or moveable mounting stands.
This is Nordson's first time winning the Outstanding Performance Award at Japan Pack. The trade show is held every other year, hosted by the Japan Packaging Manufacturer's Association, with over 100,000 domestic attendees. For more information, visit the Japan Pack website.
For more information on Nordson tankless technology, contact Nordson Corporation at (800) 683-2314 or visit http://www.nordsonadhesive.com.
About Nordson Corporation
Nordson Corporation delivers precision technology solutions that help customers succeed worldwide. The company engineers, manufactures and markets differentiated products and systems used for precision dispensing of adhesives, coatings, sealants, biomaterials, fluids and other materials, plastic extrusion and injection molding, electronics testing and inspecting, and surface preparation, all supported by application expertise and direct global sales and service. Nordson serves a wide variety of consumer non-durable, durable and technology end markets including packaging, nonwovens, electronics, medical, appliances, energy, transportation, construction, and general product assembly and finishing. Founded in 1954 and headquartered in Westlake, Ohio, the company has operations and support offices in more than 30 countries. Visit Nordson on the web at http://www.nordson.com, @Nordson_Corp, or http://www.facebook.com/nordson.