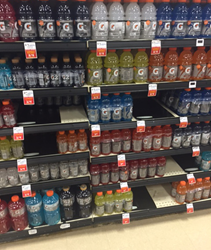 "The range of participants in this study—university professors, leading manufacturers, retailers, industry groups—shows just how important this issue is to the food industry."
Annapolis, MD (PRWEB) November 17, 2015
Powershelf® out-of-stock sensors will be the focus of new food industry pilot program, the Out-of-Stock Inventory Management test, measuring possible solutions to grocery out-of-stocks. The program is led by a joint task force consisting of Giant Eagle, the Food Marketing Institute (FMI), the University of Maryland, Ernst & Young, dozens of leading manufacturers, and Powershelf. The program is scheduled to run from November 2015 through January 2016 and will measure the effectiveness of Powershelf out-of-stock sensors in four Giant Eagle stores in the Columbus, Ohio area.
Unlike previous industry studies which emphasized the distribution chain, the Out-of-Stock Inventory Management test focuses on the individual store level, where industry studies have shown nearly three-quarters of all out-of-stocks occur. The Giant Eagle stores in this pilot will be divided into two groups: control and test stores, both of which will be outfitted with Powershelf out-of-stock sensors. The sensors will measure on-shelf availability in the yogurt, sports drinks, beer, and diapers categories to date with leading manufacturers representing their interest as participants. The sensors detect when products go out-of-stock and use the two-way communications capabilities of Powershelf to alert store personnel and distributor partners to remedy the situation. However, only the sensors in the test stores will send out alerts when products go out-of-stock. Other data collected from the test includes response time to address the OOS and estimated loss of sales on both non-promoted and promoted participating SKUs.
"The range of participants in this study—university professors, leading manufacturers, retailers, industry groups—shows just how important this issue is to the food industry," said John White, Chairman and co-CEO of Powershelf. "We believe that this test will provide us with even more powerful evidence as to the effectiveness of Powershelf."
The grocery industry loses tens of billions of dollars in revenue every year due to out-of-stocks and rising consumer frustration. Despite 25 years of studies, the problem remains. In fact, industry studies show that about 8 percent of the products in a store are out-of-stock at any given time.
"Solving the retail out of stock challenge is one of the most significant opportunities facing the retail food and consumer products industry today", said Mark Baum, Senior Vice President, Industry Relations and Chief Collaboration Officer at FMI. "FMI is at the forefront in addressing innovation and technology advancements in our Industry. We are very excited to be collaborating with our members on the Powershelf capability and on future pilots."
The results of the Columbus pilot program are expected to be released in early Q1 2016.
For more information about Powershelf, please visit the Powershelf website http://www.powershelf.net.
About Powershelf
Powershelf is a leading provider of retail technology solutions. Our proprietary technology—the Powershelf® system—provides constant power and two-way communications to software-enabled applications and devices which deliver a variety of advertising, merchandising and pricing services to customers. The Powershelf® system includes out-of-stock replenishment, at-the-shelf video advertising, and electronic shelf label systems that address critical, ongoing challenges faced by retailers and CPG manufacturers. Powershelf also offers a nationwide network of thousands of highly trained professionals who perform on-the-ground services such as shelf monitoring and restocking, at-the-shelf marketing, and custom installation and maintenance of the Powershelf® system. For more information, please visit http://www.powershelf.net.
About Compass Marketing, Inc.
Strategic advisers to the world's top consumer products manufacturers. Compass has extensive experience in the CPG and retail industries, and proudly represents a powerful portfolio of Fortune 100 clients, who collectively have over $300 billion in annual online and in-store sales. For more information visit http://www.compassmarketinginc.com.
About Food Marketing Institute (FMI)
Food Marketing Institute proudly advocates on behalf of the food retail industry. FMI's U.S. members operate nearly 40,000 retail food stores and 25,000 pharmacies, representing a combined annual sales volume of almost $770 billion. Through programs in public affairs, food safety, research, education and industry relations, FMI offers resources and provides valuable benefits to more than 1,225 food retail and wholesale member companies in the United States and around the world. FMI membership covers the spectrum of diverse venues where food is sold, including single owner grocery stores, large multi-store supermarket chains and mixed retail stores. For more information, visit http://www.fmi.org and for information regarding the FMI foundation, visit http://www.fmifoundation.org.