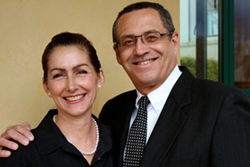 Santa Rosa, California (PRWEB) November 17, 2015
Dr. Francisco Canales and Dr. Heather Furnas are eager to announce the new PicoWay laser tattoo removal treatment in their Santa Rosa, CA office. As the founders of Plastic Surgery Associates of Santa Rosa, Dr. Canales and Dr. Furnas have been providing cutting-edge aesthetic techniques in Napa and Sonoma Valley for more than two decades. Their newest offering, PicoWay, will provide unmatched results for tattoo removal.
The field of laser tattoo removal has grown by an astonishing 440% over the last ten years. As the number of tattoos placed each year continues to escalate, so do the incidences of skin art-regret. Historically, laser tattoo removal techniques only provide inconsistent and painful results, with semi-effective abilities for ink removal.
The PicoWay laser tattoo removal technique is different from earlier methods. It uses intense, ultra-short pulses of laser energy to accurately shatter tattoo ink underneath the skin. The pressure applied by the precise PicoWay laser is so great, that the targeted ink is immediately eradicated. The remaining ink particles can then, over time, be safely and effectively metabolized by the body. PicoWay laser promises fewer treatments, versus traditional laser tattoo removal, with better overall results.
All of Plastic Surgery Associate's PicoWay sessions are performed in their custom-designed, private treatment rooms. The appointment normally takes less than half an hour, depending on the size of the area and the level of correction required. Between three and six sessions are needed for optimal results.
Award winning plastic surgeons, Dr. Francisco Canales and Dr. Heather Furnas first opened Plastic Surgery Associates of Santa Rosa in 1992. Today, the duo has successfully treated thousands of surgical and noninvasive patients. Dr. Canales and Dr. Furnas recently created the Allegro MediSpa as a relaxing location for their patients to receive cutting-edge, noninvasive treatments and services.
Dr. Francisco Canales is a member of the California Society of Plastic Surgeons, the American Society of Plastic Surgeons, and the renowned American Society for Aesthetic Plastic Surgery. Dr. Heather Furnas has served as the President of the Sonoma County Medical Association, as a delegate to the California Medical Association, and sits on the editorial board of the Sonoma County's Physician Magazine. Both Dr. Canales and Dr. Furnas are Board Certified by the American Board of Plastic Surgery.
Patients interested in the PicoWay laser tattoo removal process at Plastic Surgery Associates should contact the office at 707.537.2111. A complimentary tattoo removal consultation will be arranged with Dr. Canales or Dr. Furnas. Plastic Surgery Associates is located in beautiful Santa Rosa, deep in the heart of California wine country. It is the perfect setting for a relaxing getaway during your aesthetic transformation.
Contact:
Plastic Surgery Associates of Santa Rosa
4625 Quigg Drive
Santa Rosa, California 95409
707.537.2111
http://www.enhanceyourimage.com