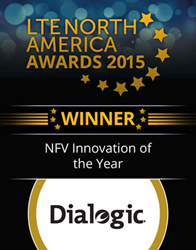 Parsippany, NJ (PRWEB) November 19, 2015
Dialogic, a global networking software and infrastructure solution provider, announced today that the Dialogic® PowerMedia™ XMS media server software has won the 2015 LTE North America Award for NFV Innovation of the Year.
Dialogic's PowerMedia XMS virtualized media server platform combines IMS/VoLTE Media Resource Functionality (MRF) and Media Resource Broker (MRB) capabilities along with WebRTC gateway support into a composite Virtualized Network Function (VNF) that enables standards-based, real-time multimedia communication including high definition voice and video services.
"Winning the NFV Innovation of the Year Award validates our virtualization and cloud strategy," said Jim Machi, SVP of Product Management and Marketing. "Our solution enables service providers to confidently deploy their real-time media-intensive applications in the cloud and accelerate their evolution to an NFV architecture."
Built on 15+ years of software media processing experience, PowerMedia XMS is trusted by world-class service providers and large enterprises to power advanced collaborative voice and video services. As of 2015, Dialogic customers have deployed more than three million production ports globally that take advantage of the software-based real-time, rich media processing technology of PowerMedia XMS.
To find out more about Dialogic's NFV strategy, check out this recent video interview with Jim Machi.
About Dialogic
Dialogic inspires the world's leading service providers and application developers to elevate the performance of media-rich communications across the most advanced networks. 48 of the world's top 50 mobile operators and nearly 3,000 application developers rely on Dialogic to redefine the possible and exceed user expectations. Check out the Dialogic Blog for industry trends, expert advice, and recent Dialogic news.
Dialogic and PowerMedia are either registered trademarks or trademarks of Dialogic Corporation or an affiliate or subsidiary thereof ("Dialogic"). Other trademarks mentioned and/or marked herein belong to their respective owners.
Contact:
Dialogic
Tim Moynihan
VP Marketing
+1 973 967 5001
timothy.moynihan(at)dialogic(dot)com