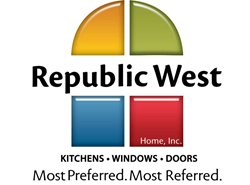 Scottsdale, AZ (PRWEB) November 17, 2015
Republic West Home's newest deal offers homeowners the opportunity to reface their cabinets and give their kitchens a facelift in only five days.
The deal is one of several seasonal offers including a house full of windows of any size with installation additional for $2,495 and a full kitchen remodels with granite starting at $199 a month.
Cabinet refacing allows homeowners to preserve the inside of their cabinets and the doors if they are in good condition by installing a thin wooden veneer over the original cabinets. The overall process is completed much quicker than installing completely new cabinets and allows homeowners to give their homes a face lift without the time or cost investment.
Republic West Home is excited to offer this option and its other offers to homeowners looking to give their kitchen a bit of a lift before the holiday season. Customers interested in learning more about the process can visit Republic West Home's state-of-the-art showroom and design center from 9 am to 5 pm weekdays.
Republic West Home is a licensed, bonded and insured contractor servicing Scottsdale and Phoenix, Arizona as well as Las Vegas and all surrounding cities. Free estimates can be obtained seven days a week by calling (480) 423-9300.
About Republic West Home:
Republic West Home is a company that stands for quality, honesty and the best value. Our vision, in an industry often lacking ethics and reliability, is to deliver the best home improvement experience possible.
To deliver the best possible experience before, during and after the completion of your project, an extensive team of professionals was put in place: employees driven to make the home improvement experience a great one for you, our customers. The formula works and the pleasant experiences we create for our customers have paid off. In an industry where repeat business averages less than 5%, Republic West Home and our 15,000+ clients generate an amazing 50% of our business from previous customers and referrals.
For additional information, please call 480-423-9300 or visit http://www.republicwesthome.com
About Tank Paint:
In the never ending battle against the elements, Tank Paint is your newest ally. Once only available to high end contractors and the government sectors, Tank Paint has been uniquely engineered to provide a lifetime warranty against chipping, peeling and cracking and provides an impenetrable moisture barrier that truly acts like a coat of armor for your home. Tank Paint, now available to the civilian market is only available through their trained network of dealers.
For more information, please visit http://www.TankPaint.com .
Media contact:
Jason W. Jantzen
Phoenix Marketing Associates
http://www.PhoenixMarketingAssociates.com
602-282-0202