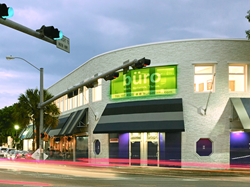 The addition of Büro should only accelerate the resurgence of the Grove.
Miami, FL (PRWEB) November 17, 2015
Miami-based Büro Group has officially opened for business in the heart of Coconut Grove. The new 10,000 square foot coworking space is the fourth location for the fast growing workspace provider, following its successful openings in Midtown, South Beach and, most recently, MiMo.
Located above Harry's Pizzeria, Kit and Ace and Panther Coffee in the recently renovated Engle Building, Büro Coconut Grove features a stylish mix of private suites and open workspaces for entrepreneurs, freelancers and creative companies. In addition to workspace, Büro members benefit from a host of services and amenities including meeting and event spaces, monthly workshops and discounts at popular local restaurants.
'We are thrilled with our beautiful new Coconut Grove space and all the positive momentum in the neighborhood," said Büro Founder and CEO Michael Feinstein. "The Grove is booming once again and the opening of Büro will help attract even more local operators, entrepreneurs and thought leaders."
Ray Fort, a designer at Arquitectonica and managing partner of the building where Büro, Harry's and Panther have recently opened, agrees with Feinstein's bullish assessment. "There is a new buzz in Coconut Grove these days and it's really exciting for local residents and businesses. The addition of Büro should only accelerate this creative and retail resurgence, just as it did in Midtown and Sunset Harbour."
Büro's growing community now includes over 750 members across 300 companies. In addition to local startups and creative firms, Büro is home to popular national brands such as Airbnb, Gilt Group, Postmates and Barry's Bootcamp. Over thirty companies have already moved into the new Coconut Grove space since its opening earlier this month.
For additional information on Büro, please visit http://www.buromiami.com, or follow them on Facebook, Twitter, or Instagram. High-res images of all Büro locations are available upon request.