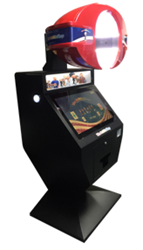 Orlando, FL (PRWEB) November 18, 2015
The Bobble Shop System is a turnkey retail solution for instantly capturing facial images, creating 3D printed personalized figurines, bobble heads, and 2D images. Then easily sharing the experience with online friends.
The Bobble Shop is acclaimed for its scanning speed and accuracy; large and expanding library of figurines; ability to customize, proprietary software and cloud based processing platform.
Now The Bobble Shop is also a totally automated and autonomous photobooth kiosk.
Without the need of an operator, the customer can scan, choose, personalize, order, buy and pay for their special figurine and fun BobbleShop experience.
Features include: stand alone automated autonomy, branding and color options, figurine display niche, embedded PC with integrated proprietary software, large touch screen, printer for 2D pictures and receipt, trigger snapshot button controls and credit card payment slot.
Visit us at IAAPA Booth to inquire about our expanding network of professional partners as a BobbleShop licensee.
Industry City
67 35th st.
Brooklyn, New York11232
http://www.bobbleshopusa.com