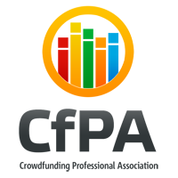 New York, NY (PRWEB) November 17, 2015
The Crowdfunding Professional Association (CfPA) is pleased to unveil the preliminary agenda for its Third Annual Crowdfinance Summit being held on December 2, 2015, in Washington, D.C.
This year's theme, Outlook and Opportunities for 2016, will highlight new developments and practices in crowdfinance and will be led by some of the most influential names in the industry as well as prominent legislative and regulatory officials.
The program will be filled with dynamic, leading-edge content; unparalleled networking opportunities and the presentation of the CfPA's 2015 Inaugural Crowd-Defender Award.
The complete agenda can be viewed at: http://www.cfpa.org/2015-summit/
Participants will include SEC officials and state regulators, legislative officials, founders and operators of leading crowdfinance platforms, leading legal, financial, accounting and marketing professionals, academic thought leaders, and nationally recognized industry advocates.
All interested members of the public are welcome to attend, and those registering for this year's Summit will automatically receive a one year individual membership in the CfPA. Those interested in attending the Summit in person should register early, as space is limited and the event is expected to sell out.
To register online, please visit http://www.cfpa.org/2015-summit/. Credentialed members of the press are welcome to receive complimentary registration. If you are a member of the media and interested in a press pass, please email events(at)cfpa(dot)org.
Sam Guzik, President of the CfPA, stated, "As we head into 2016 there is greater need for 'JOBS Act Industry' participants to exchange current information, discuss and evaluate best practices, and target areas where further regulatory or legislative change is necessary. Though we now have a solid foundation to move forward, we are only at the very beginning of what portends to be an historic multi-year journey in largely uncharted waters."
ABOUT THE CfPA:
Established shortly after the signing of the Jumpstart Our Business Startup Act ("JOBS Act") on April 5, 2012, the Crowdfunding Professional Association (CfPA) is the leadership and advocacy organization bringing together all those who support and benefit from the nascent industry of crowdfinance. Working in alliance with legislative and regulatory bodies, established financial services firms, rising FinTech businesses and academic leaders, the CfPA helps cultivate and balance a healthy ecosystem that aims to accelerate capital formation for startups and emerging growth enterprises while ensuring investor protection. CfPA members include entrepreneurs, financial professionals, FinTech leaders and legal experts possessing diverse backgrounds and business models. Since 2013, the CfPA's Annual Summit has been helping drive the industry forward with leading-edge unbiased programming and unparalleled networking.