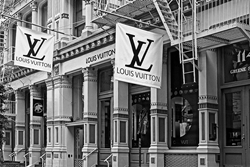 M Level Concierge officially launches company at Louis Vuitton in New York City.
New York, New York (PRWEB) November 17, 2015
On thursday November 12th, marked the official launch of M Level Concierge VIP Lifestyle Management in New York. The event was hosted at Louis Vuitton in Soho along with partners Moet Hennessy and Air Partner. Last night's event was also an opportunity to showcase and launch Moet Hennessy's new bottle of Dom Perignon "P2."
The setting of the event was elegant and the signature store was filled with UHNWI's and made for a wonderful evening of celebration, networking and of course shopping! Louis Vuitton brought in all their top products from around the world for this feature night.
John Ramos from M Level Concierge opened the evening with a few comments about M Level and it's partners. Louis Vuitton featured "The Art of Packing" which was extremely interesting for all those who that travel with style. There was also a station where people got to experience Louis Vuitton's artisan Kimi Hodges customize each individual piece of luxury product bought that evening with the owners initials and desired designs.
Moet Hennessy had a special tasting setup for the launch of their new bottle of Dom Perignon P2. The presentation for this bottle was absolutely over the top and fit the scene for the evening and the crowd. Guests truly enjoyed the iconic champagne brand. As the evening drew to an end almost all the guests left with a Louis Vuitton product in hand. The event was such a success and could not have been made possible without M Level Concierge's special guests and great partners.
About : As an exclusive lifestyle and luxury concierge company, M Level Concierge is dedicated to offering specialized experience packages and exclusive perks to the world's most prestigious events, creating unique and memorable experiences for its clients. The M Level Group has created the number one lifestyle concierge and management firm specializing in luxury travel to unique events including, but not limited to Formula 1 racing, unique international festivals, tennis championships, professional golf, football, and fashion events.
For more information visit: http://www.mlevelconcierge.com