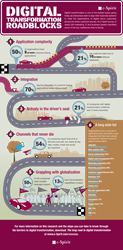 Boston, MA (PRWEB) November 18, 2015
e-Spirit Inc., a leading supplier of content management solutions, today released the results of its 2015 Digital Transformation Challenges survey of nearly 200 marketing, IT and business professionals from companies of all sizes about their digital transformation challenges. As detailed in a new report entitled "The long road to digital transformation," the research reveals key roadblocks that companies must overcome including disconnected customer-facing applications, growing channel complexity and a pressing need for new functionality.
"As the name implies digital transformation involves change, and as we learned in this research it will involve lots of change across entire organizations," said Oliver Jaeger, vice president of global marketing and communications for e-Spirit. "In order to deliver the type of seamless cross-channel experience customers expect, companies face an uphill struggle to integrate people, processes and systems – all of which are not adequately integrated today."
The research results reinforce the strong and growing interest in digital transformation initiatives with more than 88 percent of respondents indicating they already have digital transformation efforts underway. Much of the need for digital transformation is clearly seen in the survey results. On one hand, organizations are supporting numerous customer facing applications – 50 percent say they have eight or more such systems – while on the other hand these applications are not well integrated with 70 percent seeing room for improvement.
But integrating existing applications is just part of the digital transformation challenge. Companies also have a long wish list of application areas they would like to see integrated into a seamless whole. Taking a Web content management system as the starting point, the survey looked at the types of applications companies would like to see cohesively integrated. Web analytics, customer relationship management (CRM) and social collaboration were favored by more than 50 percent of the respondents, followed by range of marketing-oriented apps like marketing automation and marketing operations.
Integrating systems is just one piece of the digital transformation puzzle. In today's world, customers have a plethora of communications channels to choose from. What channel they chose and when may vary considerably based on their stage in the customer journey or the target demographic. As such, most companies are embracing multi-channel strategies with 75 percent of respondents pursuing web, email, social media and mobile. Unfortunately, as new channels gain importance old ones are not going away, with 53 percent of respondents indicating print, for instance, is still important.
"The impact of digital technologies is being felt far and wide by companies regardless of size or industry," Jaeger added. "Companies must change in order to deliver the type of digital experience customers have come to expect, and as we discovered, they have a long road ahead."
The full survey report is available for free download along with an infographic showing the six critical digital transformation roadblocks companies face including application complexity, leadership issues, and globalization.To view, download or share the report and infographic go to: http://www.e-spirit.com/us/digital-transformation-survey/
Digital Transformation Challenges Webinar
For more in-depth analysis of the survey results, join Guy Schneider, vice president of sales for e-Spirit Inc., and Heather Macfayden, vice president of production and senior WCM analyst at Falcon-Software, for a free webinar at 11:00 am PT/2:00 pm ET on Dec. 8, 2015. The webinar is being hosted by e-Spirit and CMSWire. Falcon-Software is an e-Spirit partner and a leading provider of web solutions. Advanced webinar registration is recommended to reserve a seat. Click here to register.
About e-Spirit
e-Spirit is a leader in enabling companies to unlock the value of digital content and transform the way they communicate with customers and employees. Using the FirstSpirit content management system, organizations can create a Corporate Content Cloud connecting all their people, systems and applications to the centralized, real-time data, assets and information necessary to publish content with total accuracy and relevancy across all channels and devices. Founded in 1999, e-Spirit operates in 16 locations in the United States and Europe. Clients include Lancôme, Airbus, BASF, Bosch, Commerzbank, Urban Decay, Olympus, Barbri, Nord Drive Systems and WellDyne.