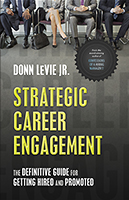 Many hiring managers prefer the power of intuition and chemistry (i.e. personality and likeability) to hard data and rational arguments as critical factors for candidate selection.
Austin, Texas (PRWEB) November 18, 2015
With so much career advice on the Internet, it can be difficult to know the best way to get hired or plan a career transition. Regardless of expertise, cover letter, or résume, there are always factors beyond one's control that may determine whether a job interview or offer is extended.
However, there are ways to demonstrate skills, knowledge, and experience that can lessen the impact of those factors. Three critical factors form the foundation of any successful career strategy: (1) How well an applicant's value (the benefits of expertise and accomplishments) addresses the hiring manager's issues and needs; (2) The strength of the applicant's continuum of belief (those elements of value the applicant provides) established with the hiring manager as the applicant proceeds through the hiring process; and (3) The applicant's value proposition, a promise of value to be provided. These three factors together help create and promote a professional brand, which is essential to any career strategy.
Your Value
Communicating your value to a hiring manager is first conveyed in your cover letter. You have less than seven seconds to grab a hiring manager's attention so get to the point in the first sentence. Hiring managers prefer to read about the future benefits of your expertise, not the features of your past experience. In other words, the tone of your cover letter needs to be, "here's what I can do for you going forward." You "sell the sizzle" of your expertise in the cover letter to get the hiring manager to look at your résumé.
Your Continuum of Belief
Becoming the hiring manager's preferred candidate requires an understanding of an important marketing principle: Value is what connects the person with a need to the person who can fulfill that need. It's the same whether you are selling cars or your professional expertise. If the person with the need perceives and believes that you will fulfill that need, then you offer real value and can make the sale.
Creating that unique advantage is about demonstrating how you are the best candidate for solving other people's problems. A career filled with accomplishments helps here. This continuum of belief you are establishing in the hiring manager's mind is conveyed through your cover letter, résumé, and interview skills.
Your Value Proposition
Your value proposition clearly states (in writing and verbally):

How your expertise solves problems for the hiring manager and others, such as customers, vendors, clients
How your expertise benefits others (quantified value, such as revenues generated, costs avoided, percent improvement)
How your expertise differentiates you from other candidates
A solid value proposition describes how you uniquely create value for clients, companies, and stakeholders. It is the primary reason why a prospective employer or client selects your services over all other competitors. Your value proposition is an elevator pitch that answers the question: "Why should I hire you?" Your professional brand supports the essential message of your value proposition. Bundled together, they remove all others from consideration for the job or contract.
A carefully planned strategy reinforces unique competitive advantages and reduces the time to the next step of a career. In today's aggressive job market, a great question to ask every day is "What did I do today to create that unique advantage for my career strategy?"
Donn LeVie Jr. is an award-winning author, consultant, and speaker with more than 25 years in various hiring manager positions for Fortune 500 companies. He is the author of Confessions of a Hiring Manager Rev. 2.0 and Strategic Career Engagement: The Definitive Guide for Getting Hired and Promoted.